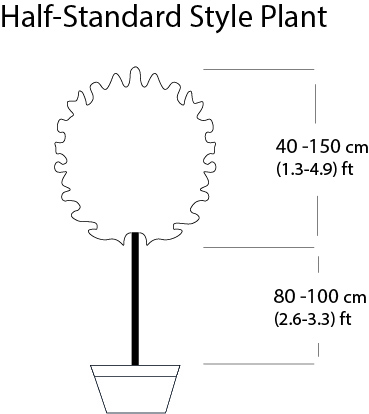 Product Description
Selected in Switzerland, it naturally has a spherical and compact habit without pruning. Long, vibrant, dark green needles; the central ones become pale in autumn and fall in winter, while the external ones remain green throughout the year. Grafted on trunk of Pinus Nigra Austriaca, it forms a nice little tree with very compact, spherical crown.
Latin Name: Pinus Nigra 'Brepo', Pinus Nigra 'Pierrick Bregeon',
English Name: Dwarf Austrian Pine 'Brepo', Dwarf Austrian Pine 'Pierrick Bregeon'
Species: Pinaceae
Genus: Pinus
Foliage Type: Evergreen.
Foliage: Dark Green.
Flower: Brown Cones.
Flowering Period: Spring.
Suggested Location: Outdoor.
Suggested Soil Type: Well-drained. Chalk. Clay. Loam. Sand.
Suggested Exposure to Sunlight: Full Sunlight or Partial Shade.
Suggested Exposure to Weather: Sheltered or Exposed.
Hardiness Rating: High (H7)
Lowest Temperature Tolerance: Less than -20°C (less than -4°F)
Suggested Uses: Small gardens. Cultivation in pots. Groups. Rock gardens.
Maintenance: No pruning required.
Growth Habit: Bushy/Round.
Growth Speed: Slow.
Delivery Cost: This is calculated based on the total size, weight and quantity of your order, as well as the location of your delivery address. You will see the final price at the Online Checkout Page (before making payment). Our website will automatically calculate the lowest possible delivery price and apply discounts to orders of certain products – giving you the best value delivery every time!
Please note that high-volume orders will decrease your delivery costs significantly by spreading the price across multiple items. Visit our Delivery Policy page for more information.