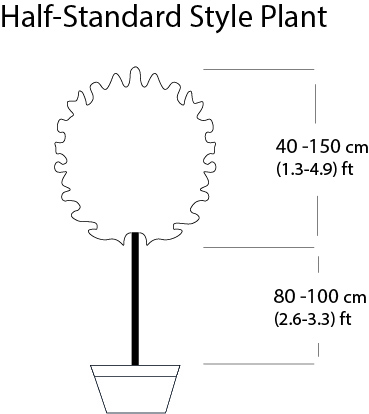 Product Dimentions
10 litres pot: trunk 80 – 120 cm (2.6-3.9 ft), canopy app. 20 – 40 cm (0.7-1.3 ft)
15 litres pot: trunk 80 – 120 cm (2.6-3.9 ft), canopy app. 20 – 40 cm (0.7-1.3 ft)
25 litres pot: trunk 80 – 120 cm (2.6-3.9 ft), canopy app. 30 – 50 cm (1-1.6 ft)
35 litres pot: trunk 80 – 120 cm (2.6-3.9 ft), canopy app.  40 – 60 cm (1.3-2 ft)
50 litres pot: trunk 80 – 120 cm (2.6-3.9 ft), canopy app. 50 – 80 cm (1.6-2.6 ft)
70-90 litres pot: trunk 80 – 120 cm (2.6-3.9 ft), canopy app. 60 – 80 cm (2-2.6 ft)
110-130 litres pot: trunk 80 – 120 cm (2.6-3.9 ft), canopy app. 80 – 120 cm (2.6-3.9 ft)
150-170 litres pot: trunk 80 – 120 cm (2.6-3.9 ft), canopy app. 100 – 140 cm (3.3-4.6 ft)
180-220 litres pot: trunk 80 – 120 cm (2.6-3.9 ft), canopy app. 120 – 180 cm (3.9-5.9 ft)
230-260 litres pot: trunk 80 – 120 cm (2.6-3.9 ft), canopy app. 120 – 180 cm (3.9-5.9 ft)
Product Description
The Pomegranate (Punica Granatum) is a small deciduous tree cultivated as a fruit crop in warmer climates, especially the Mediterranean, but in the UK is grown as ornamental shrubs or Specimen Trees in parks and gardens. Mature specimens of pomegranate tree can develop distinctive overall shape which is almost sculptural in form with twisted trunk, irregularly ridged and furrowed bark and thin, stiff, greyish brown twigs which often have a thorny tip.Punica granatum has glossy, leathery leaves that are narrow and lance shaped, 37 cm long and 2 cm broad.
In most places they are deciduous, but in the warmer climates may be evergreen.The pomegranate tree is worth growing for the flowers alone as it produces attractive bright red tube shaped flowers over 1″ long and about 3cm in diameter with four to five petals (or more in some cultivars). The flowers are self-pollinating, though cross pollination increases fertility. The edible pomegranate fruit is a rounded hexagonal berry 2.5-5″ wide covered by a thick red, yellow or orange rind. Each fruit contains from 200 to 1400 seeds varying in colour from white to deep red or purple and sectioned off by a white astringent pulp. Each seed is enclosed in a juice filled sack.
This plant needs plenty of natural sunlight although it has a slightly medium hardiness rating of H3, making it essential to only grow your plants during the summer time and to cover them up by winter. Stick to the guidelines of pruning group 1 and 13. Try to give this plant a once year trim and follow the guidelines of pruning group 1 for further ideas. The plant is generally pest and disease free. The plant can growth to a final width between 40 cm – 1.5 m (1.3 ft – 4.9 ft) and a final height of 80 cm – 1 m (2.6 ft – 3.3 ft)
Latin Name: Punica Granatum
English Name: Pomegranate Tree
Species: Lythraceae
Genus: Punica
Foliage Type: Deciduous
Foliage: Green-Bronze
Fragrance: Flower
Flower: Red
Flowering Period: Spring-Autumn
Suggested Location: Outdoor.
Suggested Soil Type: Moist but well-drained. Loam, Chalk, Sand.
Suggested Exposure to Sunlight: Full Sunlight
Suggested Exposure to Weather: Sheltered
Hardiness Rating: Slightly Medium (H3)
Lowest Temperature Tolerance: -5 °C to 1 °C (23 °F to 33 °F)
Maintenance: Pruning group 1 from spring to summer. Pruning group 13 if wall trained
Growth Habit: Bushy
Cultivation: Under glass grow in loam-based compost, in a large container or greenhouse bed, in full light with shade from hot sun. During growth, water freely and apply a balanced liquid fertiliser monthly. Water sparingly in winter. Can be grown outdoors in a well-drained, fertile soil in full sun. Requires high autumn temperatures (13 – 16°C) for fruit to ripen
Propagation: Propagate by seed sown at 13 – 18° C in spring or root semi-hardwood cuttings with bottom heat in summer
Suggested planting locations and garden types: Drought Resistant Wall-side Borders City & Courtyard Gardens Mediterranean Climate Plants Patio & Container Plants
Pests: Generally disease free
Diseases: Generally disease free
Final Height: 80 cm – 1 m (2.6 ft – 3.3 ft)
Final Spread: 40 cm – 1.5 m (1.3 ft – 4.9 ft)
Delivery Cost: This is calculated based on the total size, weight and quantity of your order, as well as the location of your delivery address. You will see the final price at the Online Checkout Page (before making payment) – our website will automatically calculate the lowest possible delivery price and apply discounts to orders of certain products – giving you the best value delivery every time!
Please note that high-volume orders will decrease your delivery costs significantly by spreading the price across multiple items. Visit our Delivery Policy page for more information.