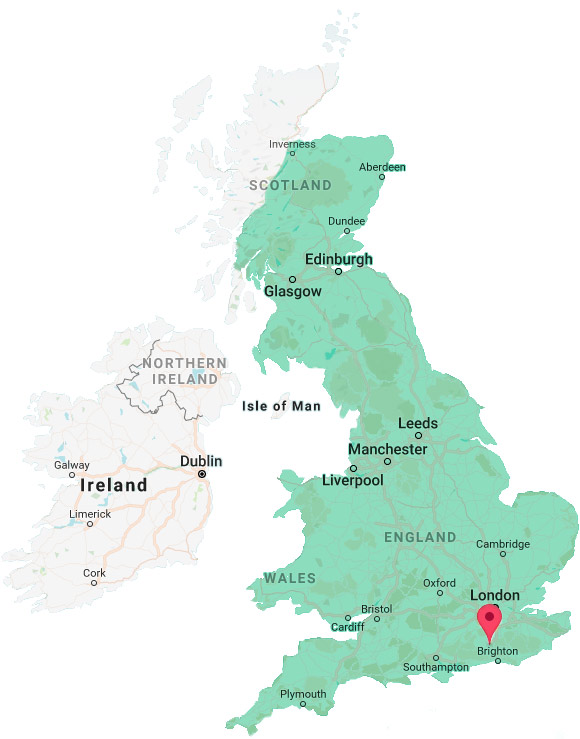 Delivery Policy
Garden Plants Online is committed to making things easy – bringing beautiful plants and trees direct to your door whilst keeping our delivery costs to a minimum.
Where do you deliver to?
We can deliver to almost anywhere in the United Kingdom by our own fleet of delivery VANs however we do not deliver to Northern Ireland, Republic of Ireland, Scottish Highlands and Islands as well as continental Europe. Due to the sensitive and often bulky and heavy products we sell we if you would like your order to be delivered to Northern Ireland, Republic of Ireland, Scottish Highlands and Islands as well as continental Europe we can try to ship it for you by courier or haulage contractor, however we can not accept  responsibility for any damages or dry condition of plants / trees after they been  in transit for 3-5 days.
However if you'd like to make a special request, we may be able to arrange it. Please get in touch prior to placing your order so that we can quote you an accurate cost of delivery.
You can telephone us on 0203 1375 159
or send an email to sales@gardenplantsonline.co.uk
How quick we deliver?
We aim to dispatch orders within 3-5 days if the product is in stock at our UK nursery. Delivery of items sourced from our Italian nursery usually take between 7-20 days to arrive, however we can not accept late delivery / delayed delivery claims if product you ordered made to measure / custom made or seasonal plant which might not be available at current month and still in production.
During the spring and summer seasons, we operate a regular shuttle between our nurseries in the UK and Italy departing every Friday. During the autumn and winter seasons, this movement of stock slows down to by weekly service or once a month for the winter period.
There are different product groups on our web site. Every product group has its own delivery lead timing. Delivery lead time also depends on quantity, your delivery post code, whether products you bought are regular stock items or made to order / custom made products or delivered from the EU locations for you. Major product groups delivery lead time:
Garden Plants and Trees – if its regular UK based stock item, we aim to deliver within 3-5 working days, however if you order something very special, we will have to move it for you from our Italian nursery which usually take around 10-12 days, however might take longer. Almost every product we delivering within 30 days, however sometimes customers ordering seasonal plants which are not ready yet for the season, in this case we usually have notes on the web site or always advise Customer delivery lead time. If you place a forward order for plants / trees which will be ready in 2-3 month period, please consider we can't get it to you sooner than the season starts. If you require your plants / trees by a special date, always contact us to confirm delivery date prior to place an online order, otherwise please allow up to 30 days for your order to arrive subject to product isn't seasonal and still in production.
Traditional Terracotta Pots and Planters – most of the products we have in our Italian nursery stock which we can deliver to you within 8-12 days, however if you order large or very special product please consider – all products are hand made and it takes time for us to produce them. Delivery lead time can be up 30 days.
Garden Watering and Irrigation Products – most of the products we sell on the web site we dispatch within 3-5 working days, however if your order for something very specific or if we have to get it from our supplier delivery can take longer.
Landscaping timber products – most of the products in this group is our regular UK stock therefore we try to dispatch within 3-5 days, however if you order made to measure / custom build product please allow up to 30 days for your order to be made and deliver to your specification at our EU based sawmilling facility.
Log cabins and sheds – log cabins are mainly made to measure products produced to order and specification for our customers by our suppliers in Estonia. Usually most of the products are in stock and delivery lead time should not take longer than 1-2 weeks, however due to Summer season and high demand our suppliers also busy and delivery lead time can be extended up to 6-8 weeks from order.
Can I collect my order?
Our nursery in Southern England is a wholesale warehouse and is not generally open for public visits. However, if you would like to collect your purchases from us directly, please get in touch to arrange an appointment.
You can telephone us on 0203 1375 159
or send an email to sales@gardenplantsonline.co.uk
How do you deliver? In order to deliver your purchases in the most cost-efficient way, we use different methods depending on the size, weight and quantity of your order, as well as the location of the delivery address.
How much will my delivery cost? When you reach the Online Checkout Page, our website will automatically calculate the lowest possible delivery price based on the size, weight and quantity of your purchases as well as the location of the delivery address. The website will also automatically apply discounts to orders of certain product types – giving you the best value delivery every time!
How we deliver? Most of our orders we delivering by our own fleet of delivery vehicles. Most of the orders we deliver by Mercedes Sprinter Luton VANs, however if your item is large and heavy we use larger vehicles including 6 tonner lorry and 24 tonner HGV with a crane to deliver orders.
Courier Delivery of Small Items Any individual purchases of less than 20 kg in weight and less than 80 cm in height and that are suitable to be packaged in a box, can be shipped using a 48 Hour courier service such as DHL, DPD or APC or DX. The cost of these deliveries is usually £15 per package.
Courier Delivery of Larger Items Usually all larger sized items we deliver by our own delivery vehicles due to size and weight of products we deliver. Sometimes we can plan courier delivery of a large item to remote location of Scotland or Islands, however it might take longer time to deliver or involve extra costs.
What is your delivery process? After you place an order with us, we will keep you informed about the status of your order.
Order Confirmation Email send automatically when you placed an order with us;
Ready for Dispatch Email send at the time when products prepared for dispatch at our nursery in Surrey. It might take from 1 day up to sometimes 10 days depending on your post code, size of the order and other factors.
Scheduled for delivery Email send at the time when your order allocated to delivery route, indicating specific delivery date and 2 hours' time slot, so you can plan to receive your order.  Please note, you should not book any works, gardeners before you receive your delivery, while we aim to stick to planned delivery date and time slot, sometimes factors out of our control, i.e., road traffic, vehicle failure etc. might affect delivery timing and we cannot accept responsivity for any works pre-booked prior to order delivery.   
Order Dispatch Confirmation Email send to confirm your order loaded on the delivery vehicle and out for delivery to you. Sometimes order might arrive next day of the following day, if delivery route contains of more than one day.
Delivery Status Update Email usually sent automatically to our customers every 7 days if delivery takes longer than 7 days. If you would like more specific information about delivery timing, you need to contact us and we will check it for you.
We usually try to accommodate convenient delivery date for our customers, especially when orders are large and bulky and plan deliveries together with our customers to make our deliveries convenient.
Curb Side Delivery:
Our driver will deliver your order to the most suitable access point at the property and unload your items to a convenient place.
Our delivery drivers have trolleys and pallet trucks to move heavy and bulky items and usually we always try to help and move your plants to the convenient spot as long as its quick and will not affect our scheduled delivery route and other Customers.
You should arrange in advance:
– 2 – 3 men delivery of your heavy or bulky items if required;
– Hyab crane delivery of your extra heavy items or if you require to move them over the fence or over the roof;
– Lifting your plants to any upper floors of your building especially where restricted on-street parking possibility;
– Moving your plants to your back garden, via the building, especially if there steps, soft lawn, narrow gates etc.
If you are not present at the time of delivery, our driver will still fulfil your order if it is safe to do so. Prior to delivery you can arrange with us to deliver to the property next door, or to a similar safe location.
If you foresee any possible problems or difficulties to the delivery of your purchases, please get in touch so that we can make arrangements to ensure the smooth arrival of your items.
You can telephone us on 0203 1375 159 or send an email to sales@gardenplantsonline.co.uk
What if I missed my delivery? We always attempt to contact our customers before dispatching an order – to confirm that you are ready to receive the delivery, to arrange a 2 hour time slot and to agree upon a safe and suitable place to unload your items at the property.
In the unlikely event that a delivery cannot be fulfilled due to circumstances beyond the control of Garden Plants Online and which are dependent upon responsibilities of the customer, it may be necessary to arrange a second delivery at extra cost to the customer.
What if there's something wrong with my delivery? We take customer service very seriously and will do everything in our power to rectify mistakes and replace missing or damaged items.
Please contact us within 48 hours of delivery by sending an email with details of your concern to customerservice@gardenplantsonline.co.uk or you can telephone us on 0203 1375 159
Your claim may be rejected if we do not hear from you within 48 hours of your delivery date.
What if I still have more questions? You can telephone us on 0203 1375 159 or send an email to sales@gardenplantsonline.co.uk
Legal Statement All delivery times quoted throughout this website are estimates only and whilst we will endeavour to meet or beat them, they cannot be guaranteed.