About Garden Plants Online
Are you looking for a rewarding job? A successful company – it's the people that make it work!
Life at Garden Plants Online
Garden Plants Online's staff are a diverse bunch of creative individuals who enjoy being part of a small team that packs a big punch.
Our office is in central London, Hammersmith where we develop our online product, work on marketing, sales and customer service.
Office offer a relaxed and friendly working environment in light and open plan offices. Apart from it being an enjoyable place to work, we offers a range of additional benefits such as sports membership contributions and extra holidays the longer you work for us.
Could this be you?
We're looking for talented and enthusiastic individuals to add to our growing team, and to help us help hundreds of people make their garden look beautiful. If you are creative and hardworking, you will see your ideas having a direct effect on our business and how it develops.
We have the following roles available:
How We Started
Garden Plants was founded in 2005 by two London gardeners who found it difficult to source consistently healthy varieties of specific cultivars for clients. From these humble beginnings we have become one of the leading and top rated UK horticultural suppliers accumulating numerous awards and honours along the way. Thanks to a partnership with our Northern Italian Nursery, we offer over 1000 varieties of superior quality plants to the UK.  We supply directly to a vast array of clientele ranging from large Botanical Gardens and Landscape Architects to Hobby Gardeners.  For 2020 we are proud to announce that we have expanded to offering a superior line of Garden Architecture and Landscaping Solutions.  Our success is the result of our diligent attention to customer service and our founders' vision of creating an industry standard for superior botanical supply nationwide.
Our Offices
Our administrative office is located in the vibrant heart of the Hammersmith area.  Our offices are furnished with a well-appointed kitchen/dining area stocked with tea and coffee for our employees and features a lounge area for our administrative and sales personal.  We believe that by creating a healthy and creative environment for staff we will foster a positive workplace mentality resulting in industry leading customer service through outstanding administration.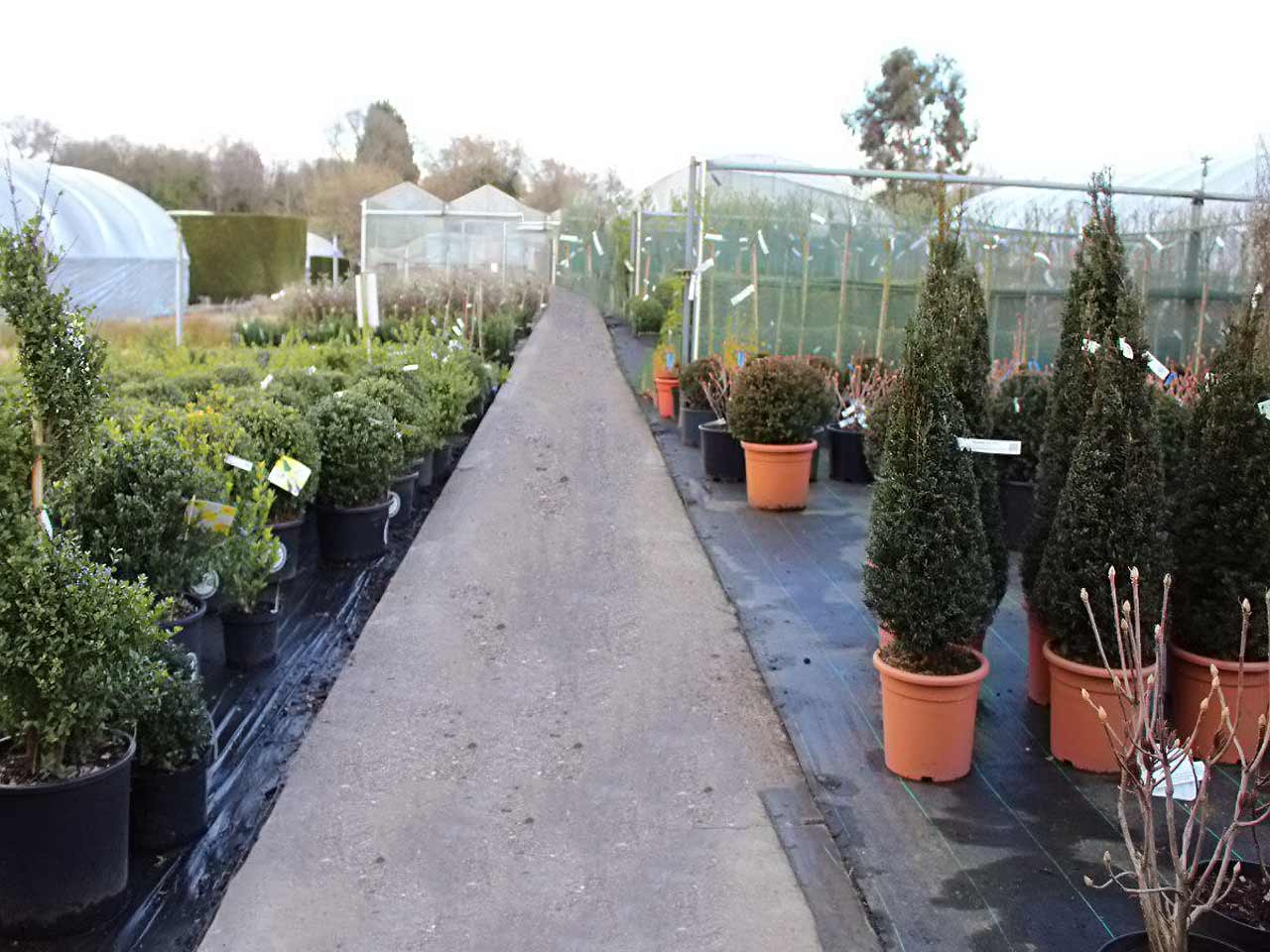 Our Garden and Logistics Centre
Our garden and logistic centre is located in a charming area near Guildford and offers our logistical staff an outdoor terrace with a lovely view of the countryside.  With direct access to Portsmouth Road, our logistic centre provides rapid access to the road network making it an ideal location as a distribution hub.  Our experienced gardening personnel take diligent care of our cultivars here before they are shipped out nationwide.  Our Guildford location is specifically designed as a wholesale distribution centre and is not available for public visits.
Multi-drop Delivery Driver
Description
Garden Plants Online are looking for self-employed van drivers in Guildford area. We are looking for van drivers who want to complete local and nationwide deliveries of garden plants, trees and other products to our customers.
You can work 5 or 6 days / week or if you like choose part time Weekend shift only.
You will be doing on average 10-15 drops per day depending on your delivery route and delivery area. Products we deliver mainly garden plants and trees as well as items such as bags of gravel, compost, boxed irrigation products, pots and planters as well as more heavy products like fencing panels, landscaping timber products, so you will need to be capable of lifting heavy items on both collection and delivery.
What you'll get
Earn in excess of £550 p/w (based upon both local and national average earnings)
Weekly payments
Apply today – and start in a few days
What you'll need to apply:
– Submit your Cover letter and CV online
– Your National Insurance Number
– Your Passport or documents to prove your entitlement to work in the UK
– Your Driving Licence
– A mobile smartphone using Android (6 or above) or an iPhone using iOS (11 or above)
Have your own VAN? – you can work on your own VAN with us too and Earn in excess of £650 p/w (based upon both local and national average earnings)
If you would like to use your own delivery VAN you also will be required to submit:
Recent pictures of the van you wish to use
Vehicle insurance documents / courier insurance is required for all vehicles
So, what are you waiting for? Apply today!
Maintenance Gardener
Description
Garden Plants Online has an open position for the position of Maintenance Gardner in the Guilford area that will be performing on-site gardening. The position will be assisting clients with the planting, care and maintenance of cultivars both in commercial and private gardens.
You can work 5 or 6 days per week with weekends/overtime optional.
Earn £10 per hour with the opportunity for overtime.
Responsibilities
Planting and mulching of full range of cultivars including trees, bushes, hedges, ornamental grasses, etc.
Advising clientele about proper care and maintenance of garden plants
Pruning, hedge cutting, deadheading, trimming, fertilising, etc.
Operating various horticultural machinery including hedge cutters, blowers, trimmers, etc.
Personnel Specifications
Relevant gardening experience and qualification in horticulture is recommended but not required
Punctual, reliable, hardworking, able to take initiative and directions
Enjoy working outdoors in all conditions
Ability to interact with clients from a range of different backgrounds and confident communication skills
Valid driver's license
What you will need to apply:
Submit your cover letter and CV online
Your National Insurance Number
Your passport or documents to prove your entitlement to work in the UK
A mobile smartphone using Android (6 or above) or an iPhone using iOS (11 or above)
Sales Associate / Sales Manager (Guildford / BCN)
Full time, permanent
Salary: £18,000-£25,000
Location: London
Starting salary of £16,000 p/a, raising to £18,000 on completion of probation. Plus you'll be eligible to earn an extra bonus paid monthly depending on your performance and general company's sales performance which boosts your earnings up to £25,000 p/a
Our Sales Associate work alongside our award winning Customer Service Team who provide outstanding support to our retail and trade customers. Our Sales Team Lead are responsible for handling all customer's sales enquires by telephone, email and chat messenger, quoting potential customers, advising them about our products, its maintenance, delivery time etc. follow up sales leads all the way in order to complete sales.
You'll be part of our team who work hard but have fun along the way, and are renowned for excellent service.
On a daily basis you'll be required to communicate directly with our customers via email, phone or chant messenger. You'll interact with customers to provide and process information in response to enquiries, providing advise about our products and services.
You'll also be responsible for approaching new potential trade customers (garden centres, landscape designers), provide quotation and increase our customer's base.
In addition to the monthly bonus scheme, we also offer a Private Healthcare Scheme, Contributory Pension Scheme and monthly gym contributions (all applicable upon the successful completion of a 3-6 month probationary period). We also award our staff with extra holidays the longer you work for us!
We're recruiting for a full time position which includes some evenings and alternate weekends. If you're interested in this position, please ensure that a cover letter outlining why you feel you'd be suitable for the role is included when applying.
Responsibilities and duties:
• Handle all sales enquiries over the phone, emails, chat messenger
• Contact potential or existing customers to inform them about our products, services and promotions
• Researching new potential clients B2B i.e. garden centres, landscape designers and making them aware what we can do for them
• Answering questions about our products with a thorough understanding of what we do and how it is of benefit of the client
• Establishing and developing relationships with prospects, recommending solutions
• Complete sales and pass accurate orders over to procurement to create quotes, invoices
• Handle grievances to preserve the company's reputation
• Go the "extra mile" to meet sales quota and facilitate future sales
• Keep records of calls and sales and note useful information
• Preparing weekly reports by collection, analysing and summarising information
• Keeping up to date with current industry trends and related trade fairs
• Explores business opportunities by identifying prospects
Skills and experience:
• A strong customer focus with the ability to deliver great service.
• Experience in a web based company.
• Working knowledge of MS Office (Word, Excel, Outlook)
• A background in complaint resolution would be useful, but not essential.
• Confident and positive personality with excellent communication skills both written and verbal.
• Strong analytical skills with attention to detail are essential.
• Ability to learn and adapt to new techniques and experience.
• Ability to remain calm and empathetic when under pressure or dealing with difficult situations.
• Able to understand the customers point of view but be able to communicate our policies and values effectively.
• Ability to effectively multi-task and prioritise your workload.
• We're an online service so regular internet use and knowledge will go a long way.
Person specification
The ideally candidate would come from a B2B or B2C sales, the ability to identify sales opportunities from customer service calls. We are looking for the right person to support our business, who will grow with us and help us to achieve more. For these reasons, we are looking for candidates who can demonstrate the below qualities:
Passionate
• Shows integrity.
• Is committed to providing excellent service.
• Cares about customers, colleagues and the business.
Active
• Has a confident, positive and upbeat personality.
• Is continuously developing.
• Demonstrates high energy and eagerness to learn.
Inspires
• A committed team player.
• A great communicator.
• Motivates and inspires others within their team.
Senior Word Press Developer
Full time, permanent, contract
Salary: £32,000-£50,000 depending on experience
Location: London
The Role
The Senior WordPress Developer will be responsible for the upkeep and improvement of existing applications and be a vital part of the development team on greenfield projects too. As a senior member of the team there will be an onus on you mentor and coach junior members of staff and drive the team forward.
Responsibilities and duties
We are looking for a passionate WordPress developer to maintain and enhance existing applications and work on brand new end to end development projects. You will need to have the confidence and ability to multi-task whilst remaining a clear thinker and communicator. The ideal candidate will have the knowledge and best practices for web performance, accessibility and usability. You will be working on a range of different projects and delivering in tight deadlines.
Skills and experience
Excellent PHP knowledge and PSR-2 standards and understanding of front-end technologies, including HTML5, CSS3, JavaScript. A proven track record of developing custom WordPress plugins and themes in line with best practices. The successful candidate will also come from a strong coding background with proven experience of site-building using the latest technologies. They will also have extensive experience designing and developing responsive design website.
Person Specification
We are looking for a customer-focused Senior WordPress Developer to join our company at our stylish offices in the heart of London to add skilled WordPress Developer to our growing team.
What you'll get in return
£ dependent on experience
33 days holiday (inclusive of bank & public holidays)
Company pension scheme
Individual bonus scheme
Company bonus scheme
Garden Plants is an equal opportunity employer that values diversity as paramount to our success.  We do not discriminate based on religion, race, sex, gender identity, sexual orientation, age, political opinion/preference or national origin.  Our human resources department employs based on experience and skills.  We actively promote the national living wage recommendations and advocate fair pay.
Employment with Garden Plants is a wonderful opportunity as we strive to promote from within and we are constantly expanding. As an employer, you can rely on Garden Plants to provide a fulfilling working environment. We promote teamwork, personal development, and professional development and we are always searching for bright, talented job seekers to add to our team of industry professionals.