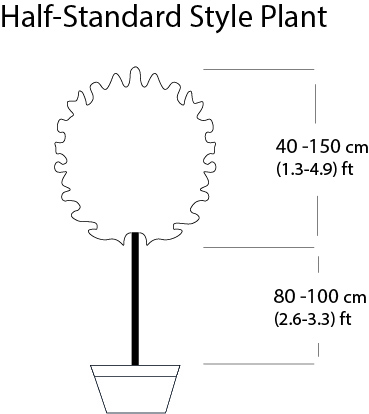 Product Description
Ornamental apples grown for their blossom rather than for their fruit. Their flowering is one of the "magic moments" of springtime, and in autumn, often in winter clusters of brightly coloured crab apples hang from their boughs like tiny lanterns, creating a truly cheerful spectacle. They are hardy and easy to cultivate, In northern climates they are planted in full sun. The soil must be deep, cool, rich in humus and organic matter, whether moderately chalky or acid is not important. They can be grown and are available both as bushes and as trees. The bushes are very striking on their own on lawns, but can also be associated with other shrubs. The trees are used on their own on lawns, in groups in parks and for avenues. They attract a wide variety of fauna.
Latin Name: Malus Pom'Zai
English Name: 'Courtabri', Crab Apple Tree
Species: Rosaceae
Genus: Malus
Foliage Type: Deciduous.
Foliage: Green.
Flower: Pale Pink.
Flowering Period: April-May.
Suggested Location: Outdoor.
Suggested Soil Type: Well-drained. Clay. Loam. Chalk. Sand.
Suggested Exposure to Sunlight: Full Sunlight or Partial Shade.
Suggested Exposure to Weather: Sheltered or Exposed.
Hardiness Rating: High (H6)
Lowest Temperature Tolerance: -20 °C to – 15 °C (4 °F to -5 °F)
Suggested Uses: Small gardens. Planting on its own. Groups.
Maintenance: Grow in moderately fertile soil; will tolerate partial shade.
Growth Habit: Bushy.
Growth Speed: Medium.
Delivery Cost: This is calculated based on the total size, weight and quantity of your order, as well as the location of your delivery address. You will see the final price at the Online Checkout Page (before making payment). Our website will automatically calculate the lowest possible delivery price and apply discounts to orders of certain products – giving you the best value delivery every time!
Please note that high-volume orders will decrease your delivery costs significantly by spreading the price across multiple items. Visit our Delivery Policy page for more information.