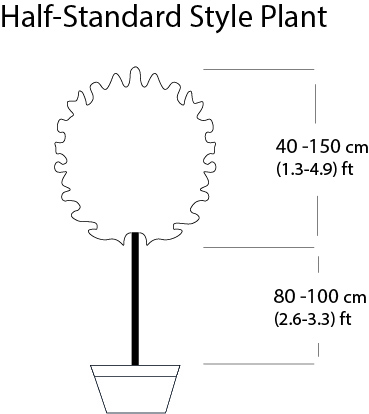 Product Description
A magnificent white rose with densely-grown green foliage and clusters of creamy 6cm blooms.
Our White Rose Trees are bred by the award-winning Rosen Tantau. This white variety was created in 2009, it has a gentle fragrance of aniseed and is also quite hardy against the British weather (although we still recommend you shelter it from the worst winter storms). Sold as a "Half Standard" size, this means the tree will have a bare trunk of roughly 60 – 90cm between the ground and first branches.
Roses are grown for their breathtaking beauty. It is genuinely poetic and artistic to watch a rosebud slowly open and bloom in your own garden. And with blooms that come in every colour of the rainbow, you're certain to find a rose that matches your garden's style and palette. Second only to their beauty is their scent, which varies from plant to plant, but can bring a new level of sensory interest to you garden.
Latin Name: Rosa Artemis Tantau
English Name: White Rose Tree, White Rose Bush, Artemis Rose, Artemis Tantau Rose
Species: Rosaceae
Genus: Rosa
Foliage Type: Deciduous.
Foliage: Green.
Flower: White.
Flowering Period: Summer to Autumn.
Suggested Location: Outdoor.
Suggested Soil Type: Well-Drained. Loam. Chalk. Sand. Clay.
Suggested Exposure to Sunlight: Full Sunlight.
Suggested Exposure to Weather: Sheltered.
Hardiness Rating: High (H6)
Lowest Temperature Tolerance: -20 °C to -15 °C (-4 °F to 5 °F)
Suggested Uses: Containers. Pathway Borders. Cut Flowers. Courtyard and Cottage styles.
Maintenance: Apply fertiliser and mulch in early winter. Prune off the previous year's growth in late winter.
Growth Habit: Bushy/Upright.
Growth Speed: Medium (15cm to 30cm per year)
Starting Height: 80cm to 120cm (2.8 ft to 3.9 ft)
Final Height: 180cm (5.9 ft)
Starting Sideways Spread: 30cm to 60cm (1.0 ft to 2.0 ft)
Final Sideways Spread: 125cm (4.1 ft)
Pot Included: 10 Litre Plastic Pot to 15 Litre Plastic Pot
Height including Pot: 103cm to 150cm (3.4 ft to 5.0 ft)
Delivery Cost: This is calculated based on the total size, weight and quantity of your order, as well as the location of your delivery address. You will see the final price at the Online Checkout Page (before making payment). Our website will automatically calculate the lowest possible delivery price and apply discounts to orders of certain products – giving you the best value delivery every time!
Please note that high-volume orders will decrease your delivery costs significantly by spreading the price across multiple items. Visit our Delivery Policy page for more information.