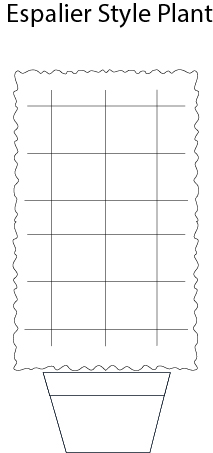 The Citrus x Nobilis plant is affectionately known as the tree that produces the fruit we all know and love, "Mandarins". The origin of this plant is unknown although it is believed to have originated in South-Eastern Asia. Today the delicious fruit is enjoyed all over the world and the good news is you can grow it in your garden too. The plant itself an evergreen, roundish tree or medium-sized shrub with dark green, eggshaped leaves. Its edible, round shaped, orange fruit has a diameter of between 3 and 4 cm. Full sunlight is required for this plant to grow to its full potential although with a low hardiness rating of H3, it is essential to keep this plant sheltered during the winter time. Following the advice of pruning group 1 for maintaining this plant. Pests can affect this plant so take care when maintaining although it is generally disease free. Final height of this plant is 70 cm (2.3 ft) and final width is 50 cm (1.6 ft).
Latin Name: Citrus x Nobilis, Citrus Deliciosa, Citrus Reticulata
English Name: Mandarin, Common Mandarin, Tangerine
Species: Rutaceae
Genus: Citrus Reticulata
Foliage Type: Evergreen.
Foliage: Green
Fragrance: Fruit
Flower: Orange Fruit
Flowering Period: Spring-Winter
Suggested Location: Outdoor.
Suggested Soil Type: Moist but well-drained. Clay, Loam, Sand.
Suggested Exposure to Sunlight: Full Sunlight
Suggested Exposure to Weather: Sheltered
Hardiness Rating: Low (H3)
Lowest Temperature Tolerance: -5 °C to 0 °C (23 °F to 32 °F)
Maintenance: Pruning group 1
Growth Habit: Bushy
Cultivation: Citrus cultivation – grow outdoors in full sun in frost-free areas with a well-drained, neutral or acidic soil. Under glass grow in loam-based potting compost in full light at minimum of 3 – 5°C
Pests: Can get citrus red spider mite and glasshouse red spider mite, soft scale and fluted scale, aphids, caterpillars and mealybugs under glass
Diseases: Generally disease free
Final Height: 70 cm (2.3 ft)
Final Spread: 50 cm (1.6 ft)
Delivery Cost: This is calculated based on the total size, weight and quantity of your order, as well as the location of your delivery address. You will see the final price at the Online Checkout Page (before making payment) – our website will automatically calculate the lowest possible delivery price and apply discounts to orders of certain products – giving you the best value delivery every time!
Please note that high-volume orders will decrease your delivery costs significantly by spreading the price across multiple items. Visit our Delivery Policy page for more information.