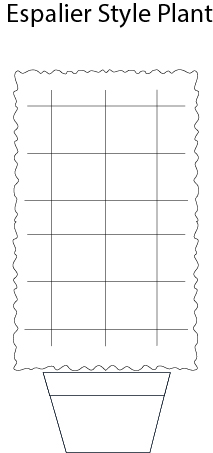 The Bisetti bamboo will be first to produce new growth – which is edible – each year. The mainly upright, though slightly arching canes, glossy-green, sometimes with a purple tinge, and yellowish green when older, are of the clump-forming variety with deep green leaves that will withstand bad weather and can form a very dense canopy – don't expect much light to reach the ground under this plant. Great on its own, in large containers or as a very effective privacy screen.
Bamboos must not dry out, they must be watered well during the first growing season, if grown in containers they need plenty of room and they will always need water during dry weather.
Average growth. The deep-green canes reach diameters of between 2.5 and 3 cm. The leaves, which are also a beautiful green, are narrow and lanceolate and measure between 12 cm and 15 cm in length. This is a very particular species for its high resistance to cold ( -25 °C). The final height for this plant is 1.5 m (4.9 ft) and the final spread is 55 cm (1.8 ft).
Latin Name: Bambusa Phyllostachys Bissetii
English Name: Bisset Bamboo, Bisset's Bamboo, David Bisset Bamboo
Species: Poaceae
Genus: Phyllostachys
Foliage Type: Evergreen.
Foliage: Green.
Flower: n/a
Flowering Period: n/a
Suggested Location: Outdoor.
Suggested Soil Type: Moist and Well-Drained. Loam. Chalk. Slightly Acidic.
Suggested Exposure to Sunlight: Full Sunlight or Partial Shade.
Suggested Exposure to Weather: Sheltered.
Hardiness Rating: High (H7)
Lowest Temperature Tolerance: -25 °C to -20°C ( -13 °F to -4 °F)
Suggested Uses: Containers. Hedging. Privacy Screening. Architectural.
Maintenance: Apply liquid fertiliser, prune dead and damaged stems in spring. Place a hard underground barrier to prevent unwanted root-spread. Cover the roots with mulch in winter. Protect against slugs.
Growth Habit: Upright/Suckering.
Final Height: 1.5 m (4.9 ft)
Final Sideways Spread: 55 cm (1.8 ft)
Delivery Cost: This is calculated based on the total size, weight and quantity of your order, as well as the location of your delivery address. You will see the final price at the Online Checkout Page (before making payment) – our website will automatically calculate the lowest possible delivery price and apply discounts to orders of certain products – giving you the best value delivery every time!
Please note that high-volume orders will decrease your delivery costs significantly by spreading the price across multiple items. Visit our Delivery Policy page for more information.