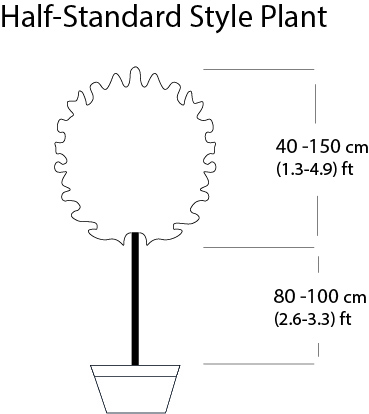 Product Description
The most sought after dwarf conifer. Rather sparse and a little uneven in the first years, it soon becomes dense and spherical and later slightly conical. With age it spreads out and flattens but stays compact. Magnificent silvery blue foliage all year. Hardy and adapts to all types of soil although it prefers fresh and loose soil. Tolerates heat, drought and even urban air better than other Piceas.
Use: the ideal plant for rock gardens and troughs, planted as a freestanding specimen. When trained into a half-standard tree it creates a wonderful effect near houses, in the middle of small plant arrangements, or as a tall feature among lower flowering plants.
Latin Name: Picea Pungens 'Glauca Globosa'
English Name: Colorado Spruce 'Glauca Globosa'
Species: Pinaceae
Genus: Picea
Foliage Type: Evergreen.
Foliage: Silvery Blue.
Flower: Narrow, Leathery-Scaled Cones
Suggested Location: Outdoor.
Suggested Soil Type: Well-drained. Clay. Loam. Sand.
Suggested Exposure to Sunlight: Full Sunlight.
Suggested Exposure to Weather: Sheltered or Exposed.
Hardiness Rating: High (H7)
Lowest Temperature Tolerance: Less than -20 °C (less than -4 °F)
Suggested Uses: Small gardens. Rock gardens. Cultivation in pots.
Maintenance: Grow in moist but well-drained acidic soil. Shelter from cold drying winds.
Growth Habit: Bushy.
Growth Speed: Slow.
Delivery Cost: This is calculated based on the total size, weight and quantity of your order, as well as the location of your delivery address. You will see the final price at the Online Checkout Page (before making payment). Our website will automatically calculate the lowest possible delivery price and apply discounts to orders of certain products – giving you the best value delivery every time!
Please note that high-volume orders will decrease your delivery costs significantly by spreading the price across multiple items. Visit our Delivery Policy page for more information.