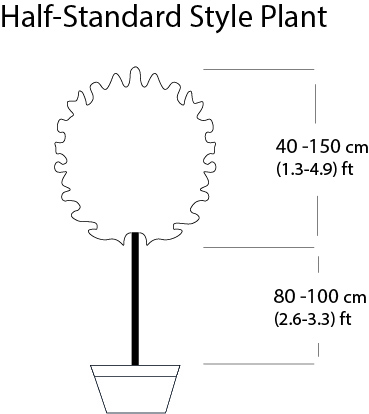 Product Dimentions
10 litres pot: trunk 80 – 120 cm (2.6-3.9 ft), canopy app. 20 – 30 cm (0.6-0.9 ft)
15 litres pot: trunk 80 – 120 cm (2.6-3.9 ft), canopy app. 20 – 40 cm (0.6-1.3 ft)
25 litres pot: trunk 80 – 120 cm (2.6-3.9 ft), canopy app. 30 – 50 cm (0.9-1.6 ft)
35 litres pot: trunk 80 – 120 cm (2.6-3.9 ft), canopy app.  30 – 60 cm (0.9-1.9 ft)
50 litres pot: trunk 80 – 120 cm (2.6-3.9 ft), canopy app. 50 – 80 cm (1.6-2.6 ft)
70-90 litres pot: trunk 80 – 120 cm (2.6-3.9 ft), canopy app. 60 – 80 cm (1.9-2.6 ft)
110-130 litres pot: trunk 80 – 120 cm (2.6-3.9 ft), canopy app. 80 – 100 cm (2.6-3.2 ft)
150-170 litres pot: trunk 80 – 120 cm (2.6-3.9 ft), canopy app. 80 – 100 cm (2.6-3.2 ft)
190-220 litres pot: trunk 80 – 120 cm (2.6-3.9 ft), canopy app. 100 – 150 cm (3.2-4.9 ft)
240-260 litres pot: trunk 80 – 120 cm (2.6-3.9 ft), canopy app. 100 – 150 cm (3.2-4.9 ft)
260-300 litres pot: trunk 80 – 120 cm (2.6-3.9 ft), canopy app. 140 – 180 cm (4.5-5.9 ft)
Product Description
The Citrus Limonum, popularly known as Lemon Trees, are one of the most known plants to mankind for their ability to produce the delightful lemon fruit. The history of the origins of lemons is unknown although it is believed they were first grown in Assam, a region of northeast India, northern Burma or even China. Lemons and their associated trees started to enter Europe during the time of Ancient Rome, but they were not widely cultivated. The first major cultivation of these plants only started to take shape in Europe during the middle of the 15th century in Genoa, Italy. The most famous story of lemons though is of course Scottish doctor James Lind's experiments on using vitamin C from lemons on seamen suffering from scurvy, hence the popular British nickname overseas as "Limey".
Our version of the lemon trees is now in Espalier fashion. Citrus are self fertile so once you have planted, a single plant should be able to produce fruit. The plant itself likes a lot of sunlight so feel free to let it grow outdoors during pleasant weather. However, bear in mind that the plant has a very low tolerance to cold and only comes up as H1c on the rating score, so make sure to keep some fleece or anything else you have at hand to keep the plant warm if the temperature suddenly drops at night time. It can be a good idea for year long growth to have an insulation room in your house with a strong UV light to help continue growing the plant. The maximum height for this plant is about 80 cm – 1 m (2.6 ft – 3.3 ft) and the maximum width is about 40 cm – 1.5 m (1.3 ft – 4.9 ft). For maintenance, minimal pruning is required. Mature plants though may produce unwanted, fast growing shoots called "water shoots". Remove these whenever possible. Be especially watchful for shoots below the graft of the main stem and remove such shoots immediately. Pests and disease can also be a problem with this plant so do take care.
Latin Names: Citrus Limonum
English Names: Lemon Trees
Species: Rutaceae
Genus: Citrus
Foliage Type: Deciduous
Foliage: Green with Lemons
Flower: Lemons
Planting Period: May
Harvesting Period: Jan-Apr, Jul-Dec
Suggested Location: Indoors
Suggested Soil Type: Well-Drained, slightly acidic soil.
Suggested Exposure to Sunlight: Full Sunlight
Suggested Exposure to Weather: Sheltered or Exposed.
Hardiness Rating: Low (H1)
Lowest Temperature Tolerance: 7°C to 10 °C (45 °F to 50°F)
Maintenance: Pruning Group 1
Pests: Mealybug,Glasshouse Red Spider or Two Spotted Mite, Scale Insects.
Diseases: Melanose, Lemon Scab, Brown Rot, Collar Rot, Sooty Blotch, Phytophthora Root Rots and Armillaria
Final Height: 80 cm – 1 m (2.6 ft – 3.3 ft)
Final Spread: 40 cm – 1.5 m (1.3 ft – 4.9 ft)
Delivery Cost: This is calculated based on the total size, weight and quantity of your order, as well as the location of your delivery address. You will see the final price at the Online Checkout Page (before making payment) – our website will automatically calculate the lowest possible delivery price and apply discounts to orders of certain products – giving you the best value delivery every time!
Please note that high-volume orders will decrease your delivery costs significantly by spreading the price across multiple items. Visit our Delivery Policy page for more information.