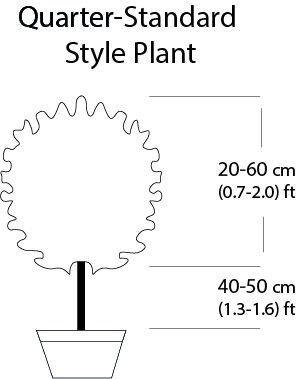 Product Description
Unlike most citrus plants, the Lime tree is not a hardy plant. They are capable of surviving brief periods below 0C, though may lose leaves, flowers and fruit as a result. Even though it has a H6 rating, it is better to bare the 0C temperature in mind and shelter them below this figure. Lime trees are best grown in large containers and moved indoors to a bright position before the first frosts in Autumn.
Lime trees are perhaps the most exciting of all ornamental citrus trees to grow because of their rarity in Britain. Lime trees are evergreens that produce green fruits containing sour, acidic pulp, which are usually smaller and sourer than lemons. Limes are grown all year round and used to accent the flavours of foods and beverages. Lime juice is a good source of vitamin C though lemons have a higher concentration.
Lime trees need plenty of sun and watering, whether when indoors or outdoors so make sure they are positioned in a place which receives sun all day long. The lime tree tolerates all soil types but prefers moist soil. Becareful of potential diseases and pests when growing this true. Maximum height is between 40 cm – 50 cm (1.3 ft – 1.6 ft) and the maximum width is between 20 cm – 60 cm (0.7 ft – 2.0 ft)
Latin Name: Citrus × aurantiifolia
English Name: Caucasian lime
Species: Citrus
Foliage Type: Deciduous
Foliage: Green-Yellow
Fragrance: Flower
Flower: Cream
Flowering Period: Summer
Suggested Location: Outdoor.
Suggested Soil Type: Moist but well-drained. Loam, Chalk, Sand, Clay
Suggested Exposure to Sunlight: Full Sunlight
Suggested Exposure to Weather: Sheltered
Hardiness Rating: High (H6)
Lowest Temperature Tolerance: -15°C to -10 °C (5 °F to 14 °F)
Growth Habit: Spreading / Branched
Cultivation: Easy to grow in most moist soils and will tolerate hard pruning. Not susceptible to aphid infestation and is therefore free of sticky honeydew. Avoid exposure to cold drying winds
Propagation: Propagation is not easy but to propagate by seed, sow stratified in containers outdoors in spring. Chip budding is the most appropriate method although care must be taken with the choice of rootstock
Suggested planting locations and garden types: Hedging & Screens Low Maintenance
Pruning: Pruning group 1
Pests: Aphids, horse chestnut scale, caterpillars, sawflies and gall mites may be a problem
Diseases: May be affected by phytopthora root diseases
Final Height: 40 cm – 50 cm (1.3 ft – 1.6 ft)
Final Spread: 20 cm – 60 cm (0.7 ft – 2.0 ft)
Delivery Cost: This is calculated based on the total size, weight and quantity of your order, as well as the location of your delivery address. You will see the final price at the Online Checkout Page (before making payment) – our website will automatically calculate the lowest possible delivery price and apply discounts to orders of certain products – giving you the best value delivery every time!
Please note that high-volume orders will decrease your delivery costs significantly by spreading the price across multiple multiple items. Visit our Delivery Policy page for more information.