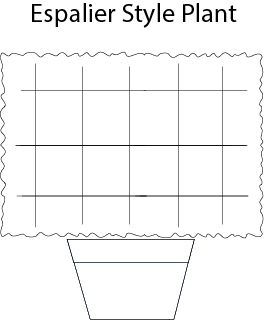 Product Description
Kumquats (or Cumquats in Australian English, Citrus japonica) are a group of small fruit-bearing trees in the flowering plant family Rutaceae. They were previously classified as forming the now-historical genus Fortunella, or placed within Citrus sensu lato. The edible fruit closely resembles the orange (Citrus sinensis) in color and shape but is much smaller, being approximately the size of a large olive. Kumquat is a fairly cold-hardy citrus. They are slow-growing evergreen shrubs or short trees. This version of the plant is in Espalier style. The leaves are dark glossy green, and the flowers are white, similar to other citrus flowers, and can be borne singly or clustered within the leaf-axils. Depending on size, the kumquat tree can produce hundreds or even thousands of fruits each year. This plant needs plenty of natural sunlight although it has a low hardiness rating of H1C, making it essential to only grow your plants during the summer time and to cover them up by winter. Try to give this plant a once year trim and follow the guidelines of pruning group 1 for further ideas. The plant can suffer from potential pest problems although is usually disease free. The plant can growth to a final width between 30 cm – 50 cm (0.9 ft – 1.6 ft) and a final height of 50 cm – 70 cm (1.6 ft – 2.3 ft).
Latin Name: Citrus Kumquat, Citrus Japonica
English Name: Kumquats
Synonyms: Citrus Kinokuni, Citrus Madurensis
Species: Rutaceae
Genus: Citrus
Foliage Type: Evergreen.
Foliage: Green-White
Fragrance: Flower
Flower: White
Flowering Period: Spring-Winter
Suggested Location: Outdoor.
Suggested Soil Type: Moist but well-drained. Clay, Loam, Sand.
Suggested Exposure to Sunlight: Full Sunlight
Suggested Exposure to Weather: Sheltered
Hardiness Rating: Low (H1C)
Lowest Temperature Tolerance: 5 °C to 10 °C (41 °F to 50 °F)
Maintenance: Pruning group 1
Growth Habit: Bushy
Cultivation: Grow outdoors in a moist but well-drained soil in a sheltered, frost-free area in full sun. Grow under glass in loam-based compost. Water sparingly in winter. Top dress in spring
Pests: Prone to glasshouse red spider mite, glasshouse whitefly and scale insects under glass.
Diseases: Generally disease free
Final Height: 70 cm (2.3 ft)
Final Spread: 50 cm (1.6 ft)
Delivery Cost: This is calculated based on the total size, weight and quantity of your order, as well as the location of your delivery address. You will see the final price at the Online Checkout Page (before making payment) – our website will automatically calculate the lowest possible delivery price and apply discounts to orders of certain products – giving you the best value delivery every time!
Please note that high-volume orders will decrease your delivery costs significantly by spreading the price across multiple items. Visit our Delivery Policy page for more information.