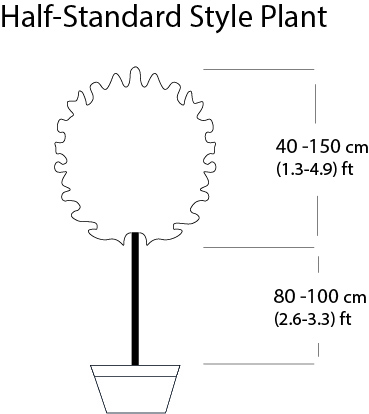 Product Dimentions
10 litres pot: trunk 80 – 120 cm (2.6-3.9 ft), canopy app. 20 – 30 cm (0.6-0.9 ft)
15 litres pot: trunk 80 – 120 cm (2.6-3.9 ft), canopy app. 20 – 40 cm (0.6-1.3 ft)
25 litres pot: trunk 80 – 120 cm (2.6-3.9 ft), canopy app. 30 – 50 cm (0.9-1.6 ft)
35 litres pot: trunk 80 – 120 cm (2.6-3.9 ft), canopy app.  30 – 60 cm (0.9-1.9 ft)
50 litres pot: trunk 80 – 120 cm (2.6-3.9 ft), canopy app. 50 – 80 cm (1.6-2.6 ft)
70-90 litres pot: trunk 80 – 120 cm (2.6-3.9 ft), canopy app. 60 – 80 cm (1.9-2.6 ft)
110-130 litres pot: trunk 80 – 120 cm (2.6-3.9 ft), canopy app. 80 – 100 cm (2.6-3.2 ft)
150-170 litres pot: trunk 80 – 120 cm (2.6-3.9 ft), canopy app. 80 – 100 cm (2.6-3.2 ft)
190-220 litres pot: trunk 80 – 120 cm (2.6-3.9 ft), canopy app. 100 – 150 cm (3.2-4.9 ft)
240-260 litres pot: trunk 80 – 120 cm (2.6-3.9 ft), canopy app. 100 – 150 cm (3.2-4.9 ft)
260-300 litres pot: trunk 80 – 120 cm (2.6-3.9 ft), canopy app. 140 – 180 cm (4.5-5.9 ft)
Product Description
Citrus × Sinensis, also known as the Citrus Aurantium (Sweet Orange Group), includes the commonly cultivated sweet oranges, including blood oranges and navel oranges. The origin of the original plant is obscure to history but it is believed to have originated in southern Asia, particularly South China and Vietnam. The plant starts to bloom from Spring until Autumn. Producing delightfully fragrant fruit and blossom, orange trees are an interesting way of bringing rich colour to your garden. Susceptible to frost, oranges can be kept indoors during the winter months but must be situated in an area with plenty of sun. Tolerant of most soil types, they need lots of watering when the surrounding soil is dry but be careful not to over-water. Pruning can be done to encourage further growth and increased fruition. It has a low tolerance to cold weather being only a H3 on the hardiness scale, therefore it is best to keep this plant in warmer conditions the best you can. Stick to pruning group 1 for guidance on how to maintain this plant. The plant is generally disease free but be careful of potential pests.
Latin Name: Citrus x Sinensis
English Name: Temple Orange
Species: Rutaceae
Genus: Citrus
Foliage Type: Evergreen.
Foliage: Green-White
Fragrance: Flower
Flower: White Flowers and Orange Fruit
Flowering Period: Spring-Autumn
Suggested Location: Outdoor.
Suggested Soil Type: Moist but well-drained. Clay, Loam, Sand.
Suggested Exposure to Sunlight: Full Sunlight
Suggested Exposure to Weather: Sheltered
Hardiness Rating: Low (H3)
Lowest Temperature Tolerance: -5 °C to 1 °C (23 °F to 33 °F)
Maintenance: Pruning group 1
Growth Habit: Bushy
Cultivation: Citrus cultivation – grow outdoors in full sun in frost-free areas with a well-drained, neutral or acidic soil. Under glass grow in loam-based potting compost in full light at minimum of 3 – 5°C
Pests: Can get citrus red spider mite and glasshouse red spider mite, soft scale and fluted scale, aphids, caterpillars and mealybugs under glass
Diseases: Generally disease free
Delivery Cost: This is calculated based on the total size, weight and quantity of your order, as well as the location of your delivery address. You will see the final price at the Online Checkout Page (before making payment) – our website will automatically calculate the lowest possible delivery price and apply discounts to orders of certain products – giving you the best value delivery every time!
Please note that high-volume orders will decrease your delivery costs significantly by spreading the price across multiple items. Visit our Delivery Policy page for more information.