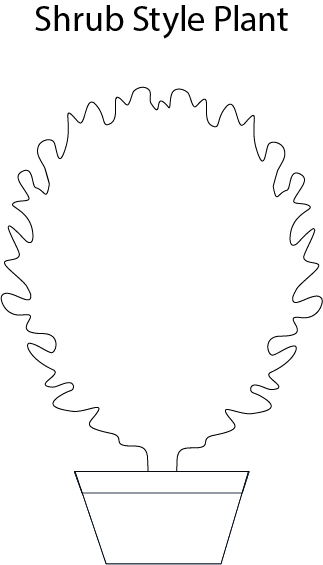 The Hydrangea Paniculata Vanille Fraise is a beautiful plant that blossoms lovely loose, fluffy, pyramid-shaped flower heads at the tips of gracefully arching branches in the summer. To enhance flowering prune hard in early spring, cutting back the previous season's shoots to within a few buds of the permanent, woody framework of the plant. The plant itself is hardy for the British climate at H5 and only needs sheltering in extreme cold conditions. It is prone to potential diseases and pests so take care. Follow the guidelines of both pruning group 1 and 6 depending on the correct season for this plant. The final height is between 1.5 m – 2.5 m (4.9 ft – 8.2 ft) and the final width is between 1 m – 1.5 m (3.2 ft – 4.9 ft).
Latin Name: Hydrangea paniculata
English Name: Vanille Fraise / Hydrangea paniculata "Renhy'
Species: Hydrangeaceae
Genus: Hydrangea
Foliage Type: Deciduous
Foliage: Green
Toxicity: May cause mild stomach upset if ingested
Flower: Pink-White
Flowering Period: Summer
Suggested Location: Outdoor.
Suggested Soil Type: Moist but well-drained. Sand, Clay, Loam
Suggested Exposure to Sunlight: Full Sun
Suggested Exposure to Weather: Sheltered
Hardiness Rating: High (H5)
Lowest Temperature Tolerance: -15 °C to -10 °C (5 °F to 14 °F)
Growth Habit: Bushy
Pests: Aphids, capsid bug, vine weevil and hydrangea scale insects may be a problem
Diseases: May be subject to a leaf spot (see leaf damage on woody plants), powdery mildews, grey moulds (Botrytis) and honey fungus
Cultivation: Grow in moist but well-drained moderately fertile, humus-rich soil in full sun or partial shade
Propagation: For home use, propagate by softwood cuttings in early summer or hardwood cuttings in winter
Pruning: Pruning group 1 or Pruning group 6. Flowers on current season growth so may be allowed to grow into a medium sized shrub or pollarded each spring
Suggested planting locations and garden types: Flower borders and beds Low Maintenance Hedging & Screens Cut Flowers City & Courtyard Gardens Coastal Cottage & Informal Garden
Final Height: 1.5 m – 2.5 m (4.9 ft – 8.2 ft)
Final Sideways Spread: 1 m – 1.5 m (3.2 ft – 4.9 ft)
Delivery Cost: This is calculated based on the total size, weight and quantity of your order, as well as the location of your delivery address. You will see the final price at the Online Checkout Page (before making payment). Our website will automatically calculate the lowest possible delivery price and apply discounts to orders of certain products – giving you the best value delivery every time!
Please note that high-volume orders will decrease your delivery costs significantly by spreading the price across multiple items. Visit our Delivery Policy page for more information.