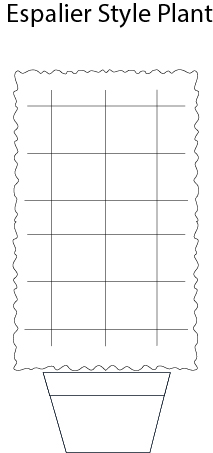 Product Description
The Wisteria Sinensis, also popularly known as the Chinese Wisteria, is one of the most popular plants in the Wisteria family that is grown in Britain. The plant originates in China and was unknown in the West until it was brought over by East India Company agents in 1816. A 200 year old specimen growing at Griffin's Brewery in Chiswick, London, is often cited as the UK's oldest living Wisteria plant. The Wisteria Sinensis can have an eventual spread of 5 m (16 ft) and achieve a final height of 9 m (29 ft). The plant is lovely during the spring and summer months when its leaves start to a purple colour. It has a hardy rating of H6 making it perfect for most of the UK climate. The soil needs to be well drained and it is good to give it a twice a tear trim. In bad weather, it is best to sheltered this plant. It is toxic plant causing severe discomfort if ingested. Also it can be affected by diseases or scale insects so keep an eye on that.
Latin Name: Wisteria Sinensis
English Name: Chinese Wisteria
Species: Fabaceae
Genus: Wisteria
Foliage Type: Deciduous
Foliage: Green / Purple
Flower: Wisteria
Flowering Period: Spring.
Suggested Location: Outdoor.
Suggested Soil Type: Well-Drained, moist but well drained. Clay, Loam, Chalk, Sand
Suggested Exposure to Sunlight: Full Sunlight or Partial Shade.
Suggested Exposure to Weather: Sheltered
Hardiness Rating: High (H6)
Lowest Temperature Tolerance: -20 °C to -15 °C (-4 °F to 5 °F)
Suggested Uses: Wall Side Borders
Maintenance: Twice a year, in Jan-Feb and Jul-Aug
Growth Habit: Climbing
Toxicity: All parts may cause severe discomfort if ingested
Cultivation: A large, long-lived climber so choosing the right site is important. Can be grown informally through large tree or more formally against a house wall or trained as a free-standing half standard in a container.
Pests: Can get scale insects
Diseases: May be affected by a leaf spot and powdery mildews
Growth Speed: Slow
Eventual Spread: 5 m (16 ft)
Final Height: 9 m (29 ft)
Delivery Cost: This is calculated based on the total size, weight and quantity of your order, as well as the location of your delivery address. You will see the final price at the Online Checkout Page (before making payment) – our website will automatically calculate the lowest possible delivery price and apply discounts to orders of certain products – giving you the best value delivery every time!
Please note that high-volume orders will decrease your delivery costs significantly by spreading the price across multiple items. Visit our Delivery Policy page for more information.