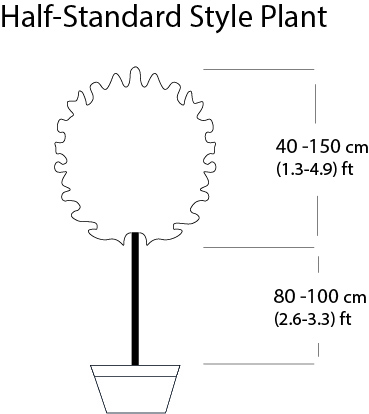 Product Description
Callistemon viminalis "Hot Pink" is a stunning new variety of Bottlebrush plant with amazing bright magenta pink flowers flecked with golden highlights. Also known as 'The Weeping Bottlebrush', it flowers in spring, early Summer and again in the autumn if the stems are cut off under the wilted flowers. Hot Pink is a great addition to any garden as it will attract bees and other nectar sucking insects like butterflies into the garden throughout the summer.
Callistemon viminalis Hot Pink suits smaller urban gardens as it is a compact medium sized bottlebrush bush reaching about 1.5m in height. Its foliage is also very attractive, with red coloured young shoots that develop into narrow grey-green leaves that last all winter. Hot Pink creates a bright eye-catching display that will definitely make an impact whether grown in a large container or planted in a border.Callistemon Hot Pink is a cross of Callistemon Citrinus Splendens (formerly Endeavour) and Callistemon Pallidus. Unlike most Callistemon varieties which originate from Australia, Hot Pink comes from South Africa.
Latin Name: Callistemon Viminalis
English Name: Bottlebrush
Species: Myrtaceae
Genus: Callistemon
Foliage Type: Evergreen.
Foliage: Green.
Flower: Red.
Flowering Period: May-June; September-October.
Suggested Location: Outdoor.
Suggested Soil Type: Well-drained. Clay. Sand. Loam.
Suggested Exposure to Sunlight: Full Sunlight.
Suggested Exposure to Weather: Sheltered.
Hardiness Rating: Low (H3)
Lowest Temperature Tolerance: -5 °C to 1 °C (23 °F to 33.8 °F)
Suggested Uses: Small gardens. Groups.
Maintenance: Regular watering while the tree is young and annual fertilisation until it matures.
Growth Habit: Bushy.
Growth Speed: Medium.
Delivery Cost: This is calculated based on the total size, weight and quantity of your order, as well as the location of your delivery address. You will see the final price at the Online Checkout Page (before making payment). Our website will automatically calculate the lowest possible delivery price and apply discounts to orders of certain products – giving you the best value delivery every time!
Please note that high-volume orders will decrease your delivery costs significantly by spreading the price across multiple items. Visit our Delivery Policy page for more information.