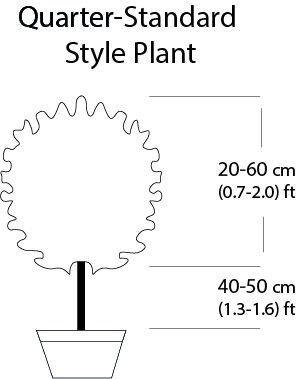 Product Description
Genus comprising numerous species of evergreen shrubs and trees native to Australia which have an extraordinary elective affinity with our species of the Myrtaceae family. They have become popular in Europe because of the spectacular flowers in axillary spikes, which look like bottle brushes. In colder areas they can be grown in pots, kept under cover in winter, giving plenty of water during the flowering period, little in winter. Requires moist, well-drained soil, not calcareous. Withstands pruning and drought. Callistemon Laevis is a tall perennial shrub or small Bottlebrush tree with an evergreen crown of fine green lanceolate leaves. The abundant intense red bottlebrush flowers it produces in mid to late summer look absolutely stunning with their bright colour. The bark of Callistemon laevis is brown with a rough texture.
Latin Name: Callistemon Laevis
English Name: Bottlebrush
Species: Myrtaceae
Genus: Callistemon
Foliage Type: Evergreen.
Foliage: Green.
Flower: Red.
Flowering Period: May-June; September-October.
Suggested Location: Outdoor.
Suggested Soil Type: Well-drained. Clay. Sand. Loam.
Suggested Exposure to Sunlight: Full Sunlight.
Suggested Exposure to Weather: Sheltered.
Hardiness Rating: Low (H3)
Lowest Temperature Tolerance: -5 °C to 1 °C (23 °F to 33.8 °F)
Suggested Uses: Small gardens. Groups.
Maintenance: Regular watering while the tree is young and annual fertilisation until it matures.
Growth Habit: Bushy.
Growth Speed: Medium.
Delivery Cost: This is calculated based on the total size, weight and quantity of your order, as well as the location of your delivery address. You will see the final price at the Online Checkout Page (before making payment). Our website will automatically calculate the lowest possible delivery price and apply discounts to orders of certain products – giving you the best value delivery every time!
Please note that high-volume orders will decrease your delivery costs significantly by spreading the price across multiple items. Visit our Delivery Policy page for more information.