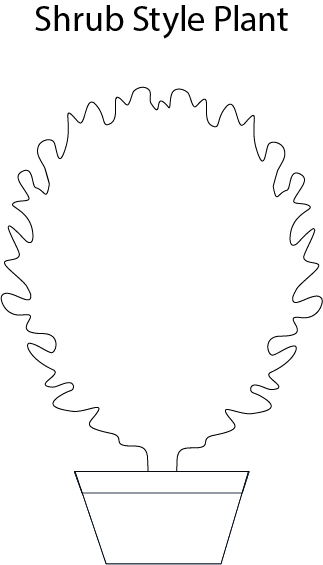 Product Description
Very characteristic dioecious conifer native to Chile. It forms a broadly conical or dome-shaped crown with a long cylindrical trunk and generally horizontal branches, the lower ones hanging down towards the ground. Evergreen leaves, bright green, thick and leathery, 3-4 cm long, from ovate to triangular with a very sharp tip. The leaves completely cover the branches and also the trunk up to a certain age. The male and female flowers grow on separate plants. The male flowers grow in groups, the female ones singly. The cones mature in 2-3 years and are green when they first appear, brown when they mature and open up to release the seeds. Grows well in humid areas, in light, fertile, fresh and very permeable soil.
Latin Name: Araucaria Araucana, Araucaria Imbicata
English Name: Monkey Puzzle Tree
Species: Araucariaceae
Genus: Araucaria
Foliage Type: Evergreen.
Foliage: Green.
Flower: Creamy-White Flowers; Greenish-Brown Fruit.
Flowering Period: Summer.
Suggested Location: Outdoor.
Suggested Soil Type: Well-drained. Loam. Sand.
Suggested Exposure to Sunlight: Full Sunlight.
Suggested Exposure to Weather: Sheltered.
Hardiness Rating: High (H7)
Lowest Temperature Tolerance: Less than -20 °C (less than 4 °F)
Suggested Uses: Parks or large gardens. Planting on its own.
Maintenance: Grow in moderately fertile, moist but well drained soil in an open site with shelter from cold, drying winds.
Growth Habit: Bushy.
Growth Speed: Slow.
Final Height: 30 m – 35 m (98.4 ft – 114.8 ft)
Final Sideways Spread: 5 m – 7 m (16.4 ft – 23 ft)
Delivery Cost: This is calculated based on the total size, weight and quantity of your order, as well as the location of your delivery address. You will see the final price at the Online Checkout Page (before making payment). Our website will automatically calculate the lowest possible delivery price and apply discounts to orders of certain products – giving you the best value delivery every time!
Please note that high-volume orders will decrease your delivery costs significantly by spreading the price across multiple items. Visit our Delivery Policy page for more information.