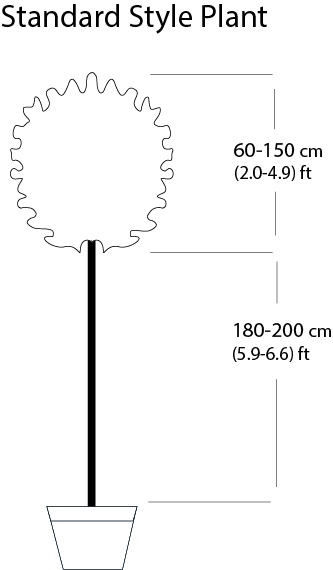 Product Description
Variety of Betula Pendula, reproduced by grafting, its general shape depends on the point where the grafting is made. If grafting is done at the base, the trunk – if correctly staked at the nursery – will grow to 6-7m with weeping branches along the whole length which almost adhere to it. When the top of the tree no longer has a stake it bends and droops down to the ground. If grafting is done at the top it forms a rather irregular crown with branches which overlap each other in an arch with the tips bending towards the ground, often touching it.
Greyish-brown bark in the first 2-3 years which become chalk white and flakes off in very thin stripes. Oval, acuminate leaves, 3-6 cm long, pale green, beautiful yellow in autumn. Flowers: in March-April in brownish-yellow hanging catkins.
Latin Name: Betula Pendula 'Youngii'
English Name: Young Weeping Birch
Species: Betulaceae
Genus: Betula
Foliage Type: Deciduous.
Foliage: Pale Green.
Flower: Brownish-Yellow Hanging Catkins.
Flowering Period: March-April.
Suggested Location: Outdoor.
Suggested Soil Type: Well-Drained. Chalk. Clay. Loam. Sand.
Suggested Exposure to Sunlight: Full Sunlight or Partial Shade.
Suggested Exposure to Weather: Sheltered or Exposed.
Hardiness Rating: High (H7)
Lowest Temperature Tolerance: Less than -20 °C (less than -4 °F)
Suggested Uses: Small gardens. Planting on its own.
Maintenance: Pruning group 1 is recommended for this plant.
Growth Habit: Pendulous/Weeping.
Growth Speed: Medium.
Delivery Cost: This is calculated based on the total size, weight and quantity of your order, as well as the location of your delivery address. You will see the final price at the Online Checkout Page (before making payment) – our website will automatically calculate the lowest possible delivery price and apply discounts to orders of certain products – giving you the best value delivery every time!
Please note that high-volume orders will decrease your delivery costs significantly by spreading the price across multiple items. Visit our Delivery Policy page for more information.