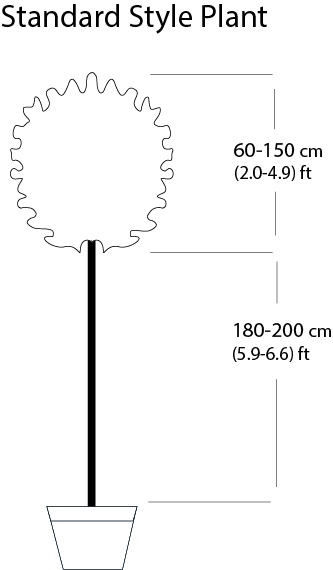 Product Description
Morus, known as the mulberry tree, a deciduous tree that is native to Japan. This mulberry tree is often appreciated for the shade it provides and for its lobed and deep green foliage with a glossy upper side that is so shiny it looks like it has been sprayed! In April May Morus kagayamae bears both male and female flowers on the same branch but this variety is sterile and does not produce fruit. It is popular for planting in public areas because It avoids the problems associated with messy fruitfall. Morus can withstand mild frosts though leaves and other aerial parts are damaged as soon as temperatures drops to freezing. The mulberry tree is likely to die as soon as temperature drops below -12°C, despite the RHS rating it as a H5. Taking this into consideration, we personally rate this plant therefore at H4 and advise to shelter the plant as soon as a major cold snap is evident. It is generally pest free but take care of any potential diseases. Maximum height is between 1.8 m – 2 m (5.9 ft – 6.5 ft) and maximum width is between 60 cm – 1.5 m (1.9 ft – 4.9 ft).
Latin Name: Morus Platanifolia Fruitless
English Name: Mulberry
Species: Moraceae
Genus: Morus
Foliage Type: Deciduous
Foliage: Green
Fragrance: Flower
Flower: Green
Flowering Period: Spring
Suggested Location: Outdoor.
Suggested Soil Type: Moist but well-drained. Loam, Clay, Chalk, Sand
Suggested Exposure to Sunlight: Full Sunlight
Suggested Exposure to Weather: Sheltered
Hardiness Rating: Medium (H4)
Lowest Temperature Tolerance: -5°C to -10 °C (23 °F to 14 °F)
Growth Habit: Pendulous/Weeping
Cultivation: Grow in moist, humus-rich, fertile soils with shelter from cold, dry winds. Prune in late autumn or early winter to prevent bleeding
Propagation: Propagate by semi-hardwood cuttings in mid-summer
Suggested planting locations and garden types: Low Maintenance
Pruning: Pruning group 1
Pests: Generally pest free
Diseases: May be affected by a leaf spot, a canker, coral spot and powdery mildews
Final Height: 1.8 m – 2 m (5.9 ft – 6.5 ft)
Final Spread: 60 cm – 1.5 m (1.9 ft – 4.9 ft)
Delivery Cost: This is calculated based on the total size, weight and quantity of your order, as well as the location of your delivery address. You will see the final price at the Online Checkout Page (before making payment) – our website will automatically calculate the lowest possible delivery price and apply discounts to orders of certain products – giving you the best value delivery every time!
Please note that high-volume orders will decrease your delivery costs significantly by spreading the price across multiple items. Visit our Delivery Policy page for more information.