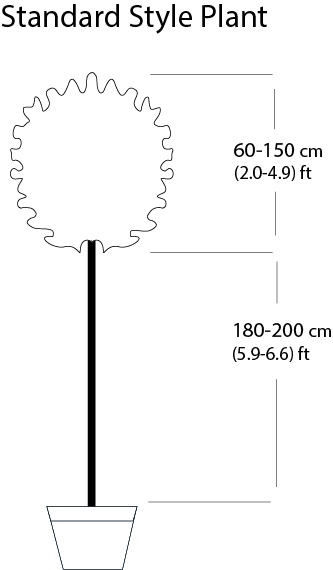 Product Description
Conifer typical to the Alps with regular, pyramidal habit, dense and remaining branched from the ground for many years. Characteristic greyish-brown bark, rough and split; as the plant grows old the bark is covered in pale patches. Rigid needles, 8-12cm long, dark green. Female flowers are red, in pairs at the tips of the new growth. Male flowers are yellow, grouped at the base of the new growth. Young cones are green and long; when mature they become large, brown and round. Mountain species which prefers snowy winters and not too humid summers. Grows well in all types of soil, even clay, and tolerates calcareous.
Latin Name: Pinus Nigra Austriaca
English Name: Austrian Black Pine
Species: Pinaceae
Genus: Pinus
Foliage Type: Evergreen.
Foliage: Green.
Flower: Brown Round Cones.
Flowering Period: Spring.
Suggested Location: Outdoor.
Suggested Soil Type: Well-Drained. Chalk. Loam. Sand. Clay.
Suggested Exposure to Sunlight: Partial Shade.
Suggested Exposure to Weather: Exposed.
Hardiness Rating: High (H7)
Lowest Temperature Tolerance: Less than -20 °C (less than -4 °F)
Suggested Uses: Parks or large gardens. Groups. Shrubland and woods. Windbreaks.
Maintenance: Does not need to be pruned but as it withstands pruning it can be made into a tree with a clear stem and wide, thick, shade-giving pyramidal crown which the sun's rays cannot penetrate.
Growth Habit: Bushy.
Growth Speed: Medium.
Delivery Cost: This is calculated based on the total size, weight and quantity of your order, as well as the location of your delivery address. You will see the final price at the Online Checkout Page (before making payment) – our website will automatically calculate the lowest possible delivery price and apply discounts to orders of certain products – giving you the best value delivery every time!
Please note that high-volume orders will decrease your delivery costs significantly by spreading the price across multiple items. Visit our Delivery Policy page for more information.