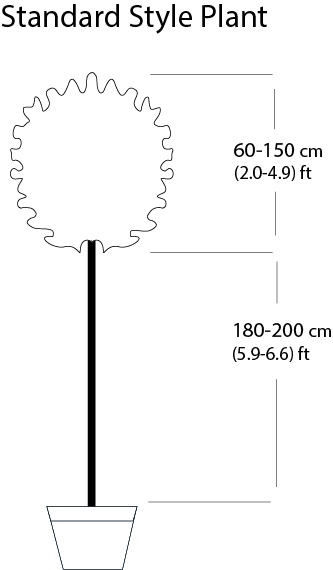 Product Description
Origin: from Iran to Japan. Deciduous tree with dome-shaped crown, very broad. Elegant leaves composed of leaflets similar to fern. Continuous flowers from July to September in panicles that have at least 10 short stalks which end in a round head made up of tiny pink stamens, yellow at the base. Fruit: green pods, 8-15 cm long, pendulous, brown when mature which last a long time on the plant. Grows well even in poor soil. It requires warmth and light in order to flower.
Latin Name: Albizia Julibrissin
English Name: Silk Tree
Species: Leguminosae
Genus: Albizia
Foliage Type: Deciduous.
Foliage: Green.
Flower: Pink.
Flowering Period: July-September.
Suggested Location: Outdoor.
Suggested Soil Type: Well-Drained. Chalk. Loam. Sand.
Suggested Exposure to Sunlight: Full Sunlight.
Suggested Exposure to Weather: Sheltered or Exposed.
Hardiness Rating: Medium (H4)
Lowest Temperature Tolerance: -10 °C to -5 °C (14 °F to 23°F)
Suggested Uses: Small gardens. Planting on its own. Shrubland and woods. Broad avenues.
Maintenance: Grow in well-drained soil in full sun. Alternating mild and cold spells may damage top-growth.
Growth Habit: Bushy.
Growth Speed: Medium.
Final Height: 8 m – 10 m (26.2 ft – 33 ft)
Final Sideways Spread: 4 m – 6 m (13.1 ft – 20 ft)
Delivery Cost: This is calculated based on the total size, weight and quantity of your order, as well as the location of your delivery address. You will see the final price at the Online Checkout Page (before making payment). Our website will automatically calculate the lowest possible delivery price and apply discounts to orders of certain products – giving you the best value delivery every time!
Please note that high-volume orders will decrease your delivery costs significantly by spreading the price across multiple items. Visit our Delivery Policy page for more information.