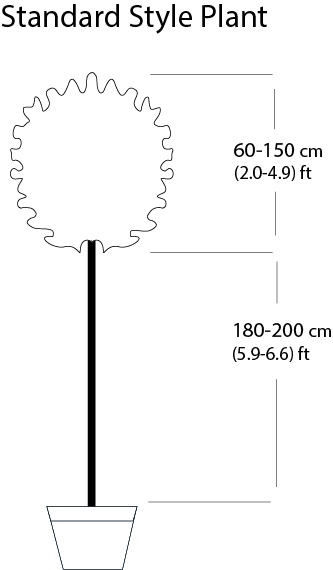 The most 'weeping' of all deciduous trees. The crown is formed from strong main branches which bow down at the ends forming arches that overlap one another; numerous secondary branches, green, thin, weeping. A picturesque, impenetrable, green cascade that reaches the ground. Leaves and flowers appear at the same time. The leaves are lanceolate, linear, 7 – 12 cm long and a little over 1cm wide, pale green on the upper side, greyish-green underneath. The flowers are green, pendulous catkins, 2 – 3 cm long, only visible close up. Requires moist soil, preferably calcareous or clay, and full sun. This is a fast grower effective in groups or alone. The plant itself is prone to pests and diseases so take care in maintaining. Stick to pruning group 1 for caring for this plant. With a hardiness rating of H5, this plant is perfect for the British climate and only should be sheltered in extreme cold scenarios. The final height is between 1.8 m – 2 m (5.9 ft – 6.6 ft) and the final width is between 60 cm – 1.5 m (2.0 ft – 4.9 ft).
Latin Name: Salix Babylonica
English Name: Babylon Willow, Weeping Willow
Species: Salicaceae
Genus: Salix
Foliage Type: Deciduous
Foliage: Green-Grey
Fragrance: Flower
Flower: Yellow
Flowering Period: Spring
Suggested Location: Outdoor.
Suggested Soil Type: Moist but well-drained. Loam, Sand, Clay
Suggested Exposure to Sunlight: Full Sunlight or Partial Shade
Suggested Exposure to Weather: Sheltered or Exposed
Hardiness Rating: High (H5)
Lowest Temperature Tolerance: -15°C to -10 °C (5 °F to 14 °F)
Growth Habit: Columnar/Upright
Cultivation: Grow in moderately fertile deep soil in full sun
Propagation: Propagate by softwood cuttings in early summer or hardwood cuttings in winter
Suggested planting locations and garden types: Low Maintenance Architectural
Pruning: Pruning group 1
Pests: Can get aphids, caterpillars, leaf beetles and sawflies
Diseases: May be affected by willow anthracnose diseases and a rust
Final Height: 1.8 m – 2 m (5.9 ft – 6.6 ft)
Final Spread: 60 cm – 1.5 m (2.0 ft – 4.9 ft)
Delivery Cost: This is calculated based on the total size, weight and quantity of your order, as well as the location of your delivery address. You will see the final price at the Online Checkout Page (before making payment) – our website will automatically calculate the lowest possible delivery price and apply discounts to orders of certain products – giving you the best value delivery every time!
Please note that high-volume orders will decrease your delivery costs significantly by spreading the price across multiple items. Visit our Delivery Policy page for more information.