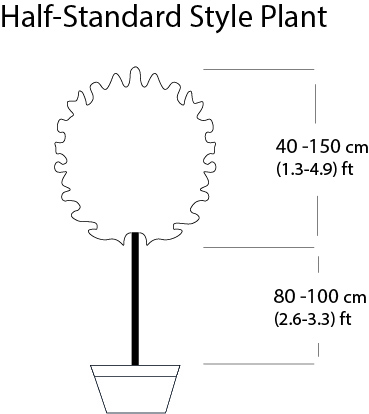 Product Description
Chamaecyparis are evergreen trees, usually of narrowly ovoid or columnar outline, with much-branched sprays of small scale-like leaves, and small, globose cones; tiny red male cones are conspicuous in a few cultivars. 'Sungold' – slow-growing conifer, flattened, round shape, with filiform, curved, tightly growing branches. The thin, thread-like foliage held on stringy, weeping branches emerges golden-yellow before eventually maturing to a lime-green colour golden yellow. Needles maintain their colour, even in full sun. Extremely hardy, adapts to all soils, unless dry. Grows well in moist but well-drained soil. Tolerant of chalk soils but prefers slightly acidic soil.
Latin Name: Chamaecyparis Pisifera 'Sungold'
English Name: Sawara Cypress 'Sungold'
Species: Cupressaceae
Genus: Chamaecyparis
Foliage Type: Evergreen.
Foliage: From Golden-Yellow to Lime-Green.
Flower: Small, Globose Cones.
Suggested Location: Outdoor.
Suggested Soil Type: Well-drained. Chalk. Clay. Loam. Sand.
Suggested Exposure to Sunlight: Full Sunlight or Partial Shade.
Suggested Exposure to Weather: Sheltered or Exposed.
Hardiness Rating: High (H7)
Lowest Temperature Tolerance: Less than -20 °C (less than -4°F)
Suggested Uses: Small gardens. Rock Gardens. Planting on its own. Shrubland and woods.
Maintenance: No pruning required.
Growth Habit: Bushy.
Growth Speed: Slow.
Delivery Cost: This is calculated based on the total size, weight and quantity of your order, as well as the location of your delivery address. You will see the final price at the Online Checkout Page (before making payment). Our website will automatically calculate the lowest possible delivery price and apply discounts to orders of certain products – giving you the best value delivery every time!
Please note that high-volume orders will decrease your delivery costs significantly by spreading the price across multiple items. Visit our Delivery Policy page for more information.