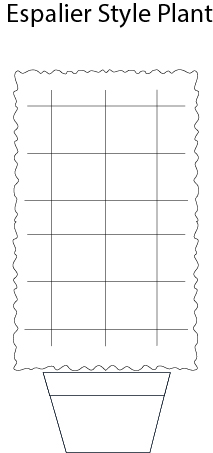 The Camellia Sassanqua is a plant that is native to China and Japan. The known history of this plant goes back to the Japanese Edo period where cultivars of this plant started to be recorded by Ihei Ito. The Japanese do not consider a true Camellia as they refer to it as Sazanka. The plant was not known in the West until 1820 when Captain Richard Rawes of the East India company brought back samples. The plant itself starts to flower in in Autumn and Winter time, producing a lovely variety of pink roses. The maximum height this plant can grow to is 2.5 m – 4 m and the ultimate sideways spread is 1.5 m – 2.5 m. The plant is acceptable to the British climate but only has a hardiness rating of H4 so make sure to shelter it during an unexpected cold snap. Potential pests and diseases can affect this plant so make sure to take care. Maintaining this plant with pruning group 1 and 8 is advisable.
Latin Name: Camellia Sasanqua – Espalier
English Name: Sasanqua Camellia
Species: Theaceae
Genus: Camellia
Foliage Type: Evergreen.
Foliage: Green-Pink
Flower: Pink Flower
Flowering Period: Autumn – Winter
Suggested Location: Outdoor.
Suggested Soil Type: Well-Drained, moist but well drained. Chalk. Clay. Loam. Sand.
Suggested Exposure to Sunlight: Full Sunlight or Partial Shade.
Suggested Exposure to Weather: Sheltered.
Hardiness Rating: High (H4)
Lowest Temperature Tolerance: -10 °C to -5 °C (14 °F to 5 °F)
Cultivation: Suitable for woodland and acidic soils. Position in a site sheltered from cold, dry winds and early morning sun as buds and flowers may be damaged by cold winds and late frosts see camellia cultivation
Propagation: Propagate by leaf bud or semi-hardwood cuttings; propagate by grafting in late winter
Suggested Uses: Hedging & Screens Architectural City & Courtyard Gardens Cottage & Informal Garden Patio & Container Plants
Maintenance: Pruning group 1 or 8
Habit: Columnar/Upright
Final Height: 2.5 m – 4 m
Final Sideways Spread: 1.5 m – 2.5 m
Pests: May be affected by camellia gall, aphids, cushion scale and vine weevil
Diseases: May be affected by honey fungus, phytophthora root rot, camellia gall, camellia leaf blight, camellia yellow mottle virus and flowers may be infected by camellia petal blight
Delivery Cost: This is calculated based on the total size, weight and quantity of your order, as well as the location of your delivery address. You will see the final price at the Online Checkout Page (before making payment) – our website will automatically calculate the lowest possible delivery price and apply discounts to orders of certain products – giving you the best value delivery every time!
Please note that high-volume orders will decrease your delivery costs significantly by spreading the price across multiple items. Visit our Delivery Policy page for more information.