Product Description
Attractive and resilient, this evergreen tree has eye-catching blueish white foliage.
As its name suggests, the Blue Arizona Cypress is native to the North American states of Arizona and New Mexico, where it enjoys the dry climate. Cypress trees are vigorous-growing evergreens with flaking or scaly bark. The Blue Arizona's usual shape is a pointed column, or an egg-like oval with a pointed top. Their needle-shaped leaves are aromatic and they grow in dense bunches, giving them a furry appearance.
All conifers are known for their hardiness and resilience against the elements. We often think of them being heavily covered with snow during the winter, but they can look equally as bold and impressive against a bright blue summer sky. Conifers get their name from the "cones" that they produce – which come in all shapes and sizes. Conifer leaves are evergreen and will either be needle-shaped or scale-like.
Latin Name: Cupressus Arizonica Fastigiata
English Name: Blue Arizona Cypress, Blue Ice
Species: Conifer
Genus: Cupressaceae (Cypress)
Foliage Type: Evergreen.
Foliage: Blue-Green and Blue-White
Flower: Brown Cones.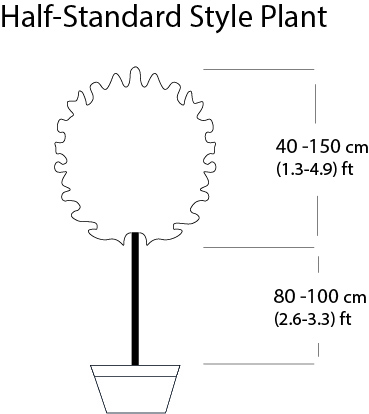 Flowering Period: Spring.
Suggested Location: Outdoor.
Suggested Soil Type: Well-Drained. Chalk. Clay. Loam. Sand.
Suggested Exposure to Sunlight: Full Sunlight.
Suggested Exposure to Weather: Sheltered.
Hardiness Rating: High (H5)
Lowest Temperature Tolerance: -15 °C to -10 °C (5 °F to 14 °F)
Suggested Uses: Embankments, Borders, Large Pots, Specimen, Ornamental.
Maintenance: No pruning required.
Growth Habit: Upright/Teardrop/Pointed-Oval.
Growth Speed: Slow (10cm to 25cm per year).
Starting Height: 120cm (4 ft)
Final Height: 3m (10 ft)
Pot Included: 25-30 litres pot
Delivery Cost: This is calculated based on the total size, weight and quantity of your order, as well as the location of your delivery address. You will see the final price at the Online Checkout Page (before making payment). Our website will automatically calculate the lowest possible delivery price and apply discounts to orders of certain products – giving you the best value delivery every time!
Please note that high-volume orders will decrease your delivery costs significantly by spreading the price across multiple items. Visit our Delivery Policy page for more information.