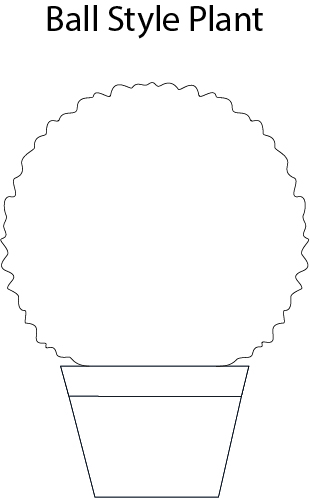 Product Description
A magnificent 150 cm diameter topiary ball clipped from Osmanthus aquifolium (Sweet Olive) that would look equally stunning as a centrepiece in a border or displayed as a container plant in a courtyard.Osmanthus aquifolium (Sweet Olive) is a handsome Japanese evergreen shrub with deep green, glossy foliage. Its leathery leaves have sharply serrated margins and osmanthus aquifolium is easily mistaken for a green-leaved Holly. At the end of autumn sweet olives bear tiny fragrant greenish-white flowers .
A tough shrub hardy to -20C, pest and disease free that can withstand wind and weather. Older plants are best for growing in areas prone to severe frost as they will survive temperatures down to -24C with some burnt foliage.Osmanthus aquifolium likes moist but well-drained, humus rich, preferably acidic soil. It prefers full sun but can suffer from sun scorch if exposed to direct sunlight when soil is frozen for long periods.
Latin Name: Osmanthus Heterophyllus
English Name: Holly Olive, Hiiragi
Species: Oleaceae
Genus: Osmanthus
Foliage Type: Evergreen.
Foliage: Green.
Flower: White, Yellow or Orange Flowers and Black Berries (all are rare)
Flowering Period: Autumn.
Suggested Location: Outdoor.
Suggested Soil Type: Well-Drained. Chalk. Clay. Loam. Sand.
Suggested Exposure to Sunlight: Full Sunlight or Partial Shade.
Suggested Exposure to Weather: Sheltered or Exposed.
Hardiness Rating: High (H5)
Lowest Temperature Tolerance: -15 °C to -10 °C (5 °F to 14 °F)
Suggested Uses: Topiary. Embankments. Coastal styles.
Maintenance: Trimming and shaping each year in the late-spring or after flowering in the autumn.
Growth Habit: Bushy/Shrub.
Growth Speed: Very Slow (10cm to 25cm per year).
Delivery Cost: This is calculated based on the total size, weight and quantity of your order, as well as the location of your delivery address. You will see the final price at the Online Checkout Page (before making payment). Our website will automatically calculate the lowest possible delivery price and apply discounts to orders of certain products – giving you the best value delivery every time!
Please note that high-volume orders will decrease your delivery costs significantly by spreading the price across multiple items. Visit our Delivery Policy page for more information.