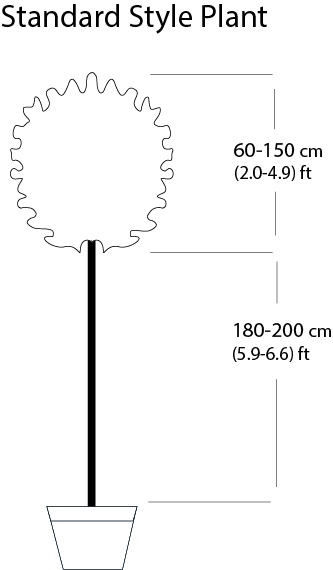 A full standard tree. The foliage of this colourful Acer ranges from a bright green in summer to wonderful autumn reds and oranges. These trees have safely withstood extremely low temperatures, making them vigorous and hardy, at a rating of H6 meaning they are perfect for the British climate. Just make sure to shelter them in an extreme cold snap. They are wind resistant and effective planted alone or in groups. Make sure to follow the guidelines for pruning group 1 with this plant. It can be affected by potential diseases and pests so make sure to take this into consideration. The final height is between 1.8 m – 2 m (5.9 ft – 6.5 ft) and the final width is between 60 cm – 1.5 m (1.9 ft – 4.9 ft).
Latin Name: Acer Rubrum
English Name: Red Sunset, Red Maple, Franksred
Species: Sapindaceae
Genus: Acer
Foliage Type: Deciduous
Foliage: Green-Red
Flowering Period: Colours in Autumn
Suggested Location: Outdoor.
Suggested Soil Type: Well-drained, Moist but well-drained. Clay, Loam, Sand
Suggested Exposure to Sunlight: Full Sunlight or Partial Shade.
Suggested Exposure to Weather: Sheltered.
Hardiness Rating: High (H6)
Lowest Temperature Tolerance: -25 °C to -15 °C ( -13 °F to 5 °F)
Cultivation: Grow in a moist but well-drained soil
Propagation: Propagate by grafting
Suggested planting locations and garden types: Low Maintenance Architectural
Maintenance: Pruning group 1
Habit: Columnar/Upright
Final Height: 1.8 m – 2 m (5.9 ft – 6.5 ft)
Final Sideways Spread: 60 cm – 1.5 m (1.9 ft – 4.9 ft)
Pests: Aphids and horse chestnut scale may be a problem
Diseases: Verticillium wilt sometimes a problem
Delivery Cost: This is calculated based on the total size, weight and quantity of your order, as well as the location of your delivery address. You will see the final price at the Online Checkout Page (before making payment) – our website will automatically calculate the lowest possible delivery price and apply discounts to orders of certain products – giving you the best value delivery every time!
Please note that high-volume orders will decrease your delivery costs significantly by spreading the price across multiple items. Visit our Delivery Policy page for more information.