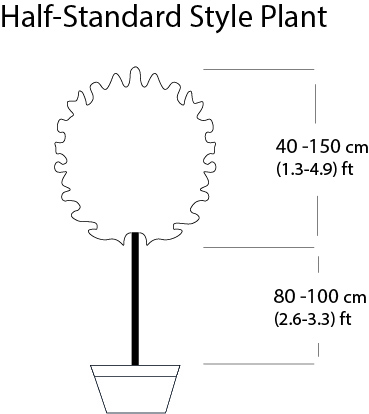 Product Dimentions
10 litres pot: trunk 80 – 120 cm (2.6-3.9 ft), canopy spread app. 30 – 40 cm (1-1.3 ft)
15 litres pot: trunk 80 – 120 cm (2.6-3.9 ft), canopy spread app. 30 – 40 cm (1-1.3 ft)
25 litres pot: trunk 80 – 120 cm (2.6-3.9 ft), canopy spread app. 40 – 60 cm (1.3-2 ft)
35 litres pot: trunk 80 – 120 cm (2.6-3.9 ft), canopy spread app. 40 – 80 cm (1.3-2.6 ft)
50 litres pot: trunk 80 – 120 cm (2.6-3.9 ft), canopy spread app. 80 – 120 cm (2.6-4 ft)
70-90 litres pot: trunk 80 – 120 cm (2.6-3.9 ft), canopy spread app. 80 – 120 cm (2.6-3.9 ft)
110-160 litres pot: trunk 80 – 120 cm (2.6-3.9 ft), canopy spread app. 100 – 160 cm (3.3-5.2 ft)
Product Description
Dissectum Viride Group has a low, spreading habit and specimens are often multi-stemmed. The leaves are so dissected as to appear almost shredded. Although green through the spring and summer they show good autumn colour. Red flowers are a discrete attraction in spring. These develop into winged fruit, typical of the genus. The origin of these plants is in the Far East, in particular Japan, Korea and China. Moist but well drained soil is recommended along with clay and loam additions. This plant has a high hardiness rating of H6 making it perfect for the UK climate. Only shelter in an extreme cold snap. It is affected by potential diseases and pests so take care when looking after this plant. The maximum height it can grow is between 1.5 m – 2.5 m (4.9 ft – 8.2 ft) and the maximum width is between 1.5 m – 2.5 m (4.9 ft – 8.2 ft).
Latin Name: Acer Palmatum Dissectum 'Viride'
English Name: Japanese Maple 'Viride'
Species: Sapindaceae
Genus: Acer
Foliage Type: Deciduous
Foliage: Green-Orange-Red-Yellow
Flower: Red
Flowering Period: Spring
Suggested Location: Outdoor.
Suggested Soil Type: Moist but well-drained. Clay. Loam.
Suggested Exposure to Sunlight: Full Sunlight or Partial Shade.
Suggested Exposure to Weather: Sheltered.
Hardiness Rating: High (H6)
Lowest Temperature Tolerance: -25 °C to -15 °C ( -13 °F to 5 °F)
Cultivation: Grow in a moist but well-drained soil. Water in summer if necessary. Leaf colour is best in partial shade, although full sun can be tolerated. Leaf scorch can be caused by lack of soil moisture, drying winds or late spring frost. See Japanese maple cultivation
Propagation: Propagate by grafting or softwood cuttings
Suggested planting locations and garden types: Low Maintenance Architectural City & Courtyard Gardens Cottage & Informal Garden Patio & Container Plants Rock Garden
Maintenance: Pruning group 1
Habit: Bushy
Final Height: 1.5 m – 2.5 m (4.9 ft – 8.2 ft)
Final Sideways Spread: 1.5 m – 2.5 m (4.9 ft – 8.2 ft)
Pests: Aphids and horse chestnut scale may be a problem
Diseases: Verticillium wilt sometimes a problem
Delivery Cost: This is calculated based on the total size, weight and quantity of your order, as well as the location of your delivery address. You will see the final price at the Online Checkout Page (before making payment) – our website will automatically calculate the lowest possible delivery price and apply discounts to orders of certain products – giving you the best value delivery every time!
Please note that high-volume orders will decrease your delivery costs significantly by spreading the price across multiple items. Visit our Delivery Policy page for more information.