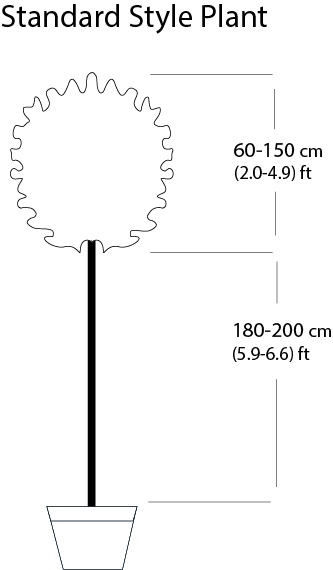 Acer Negundo is a plant that has its origins in North America, Guatemala and Mexico. The shoots are green, often with a whitish to pink or violet waxy coating when young. Branches are smooth, somewhat brittle, and tend to retain a fresh green color rather than forming a bark of dead, protective tissue. The bark on its trunks is pale gray or light brown, deeply cleft into broad ridges, and scaly. The typical lifespan of box elder is only 60 years. Under exceptionally favourable conditions, it may live to 100 years. The hardiness is rated at H6, making it perfect for the British climate. Just make sure to shelter in an unusual cold winter. The plant is prone to diseases and pests so make sure to take this into consideration. Maximum height the plant can grow is between 6 m – 8 m (19.6 ft – 26.2 ft) and the maximum width is between 4 m – 5 m (13.1 ft – 16.4 ft).
Latin Name: Acer Negundo Variegatum
English Name: Box Elder, Ashleaf Maple
Species: Sapindaceae
Genus: Acer
Foliage Type: Deciduous
Foliage: Green-Yellow
Flower: Green
Flowering Period: Spring
Suggested Location: Outdoor.
Suggested Soil Type: Well-drained, Moist but well-drained. Clay, Loam, Sand, Chalk
Suggested Exposure to Sunlight: Full Sunlight or Partial Shade.
Suggested Exposure to Weather: Sheltered.
Hardiness Rating: High (H6)
Lowest Temperature Tolerance: -25 °C to -15 °C ( -13 °F to 5 °F)
Cultivation: Grow in a moist but well-drained soil
Propagation: Propagate by seed or grafting
Suggested planting locations and garden types: Low Maintenance Architectural City & Courtyard Gardens Cottage & Informal Garden Patio & Container Plants
Maintenance: Pruning group 1
Habit: Columnar/Upright
Final Height: 6 m – 8 m (19.6 ft – 26.2 ft)
Final Sideways Spread: 4 m – 5 m (13.1 ft – 16.4 ft)
Pests: Aphids and horse chestnut scale may be a problem
Diseases: Verticillium wilt sometimes a problem
Delivery Cost: This is calculated based on the total size, weight and quantity of your order, as well as the location of your delivery address. You will see the final price at the Online Checkout Page (before making payment) – our website will automatically calculate the lowest possible delivery price and apply discounts to orders of certain products – giving you the best value delivery every time!
Please note that high-volume orders will decrease your delivery costs significantly by spreading the price across multiple items. Visit our Delivery Policy page for more information.