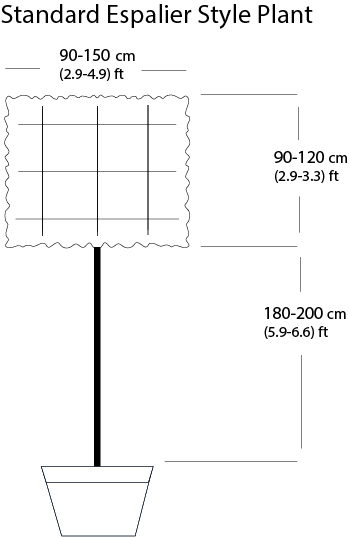 Product Dimension:
Girth 20-25 cm: 285 litres pot, Trunk – 200 cm (6.6 ft), Trellis – W140 x H120 cm (4.6 x 3.9 ft);
Product Description:
Medium sized deciduous tree which naturally forms a slender, oval, very regular crown. Oval leaves, up to 10 cm long, fairly leathery, bright green, one of the first to come into leaf in spring and the last to drop the leaves in autumn. The autumn colours begin late but last a long time and are extremely attractive, changing from bright yellow to orange and scarlet. Single, white flowers in groups of 6-12 in April. Fruit: very sporadic and never numerous, similar to the pear. Soil: prefers cool soil, from neutral to slightly calcareous but also grows well in poor soil. Very resistant to pollution, immune to disease and therefore an excellent tree for planting on not too wide streets.
Latin Name: Pyrus Calleryana 'Chanticleer'
English Name: Callery Pear
Species: Rosaceae
Genus: Pyrus
Foliage Type: Deciduous.
Foliage: Bright Green.
Flower: White.
Flowering Period: April.
Suggested Location: Outdoor.
Suggested Soil Type: Well-drained. Chalk. Clay. Loam. Sand.
Suggested Exposure to Sunlight: Full Sunlight or Partial Shade.
Suggested Exposure to Weather: Sheltered or Exposed.
Hardiness Rating: High (H6)
Lowest Temperature Tolerance: -20 °C to -15 °C (-4 °F to 5 °F)
Suggested Uses: Large gardens or parks. Srubland and woods. Broad avenues. Planting on its own.
Maintenance: Easy to grow in any fertile soil in full sun.
Growth Habit: Columnar/Upright.
Growth Speed: Fast.
Final Height: 8 m – 12 m (26.2 ft – 39.4 ft)
Final Sideways Spread: 4 m – 6 m (13.1 ft – 19.7 ft)
Delivery Cost: This is calculated based on the total size, weight and quantity of your order, as well as the location of your delivery address. You will see the final price at the Online Checkout Page (before making payment). Our website will automatically calculate the lowest possible delivery price and apply discounts to orders of certain products – giving you the best value delivery every time!
Please note that high-volume orders will decrease your delivery costs significantly by spreading the price across multiple items. Visit our Delivery Policy page for more information.