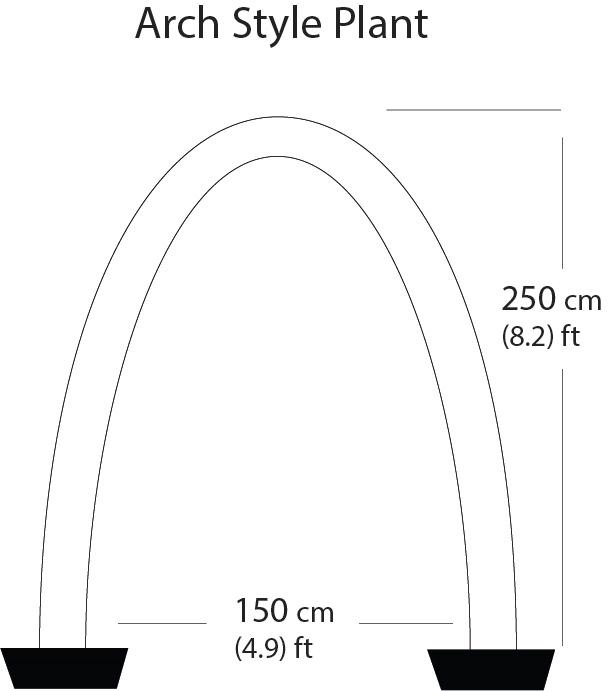 Product Dimension:
Height – 250 x Length – 150 cm / 8.2×4.9 ft: 55 litres pot;
Product Description
The lovely Photina, also known as the 'Red Robin', is now available in arch form for all those special occasions. The plant itself is native to North America and Asia although has been successfully grown in many gardens throughout the UK for about 20 years now. The actual name of the plant, "Photina", is actually derived from the word "photeinos" which is Greek for "glossy", a very true statement when it comes to this plant. The plant itself is a slow growing plant and only grows about 20 cm (7.8 inches) to 40 cm (1.3 ft) a year. Final growth of this plant can be expected at about 4 m (13 ft). This plant is perfect for the British climate and can successfully be grown throughout the country. With a high hardiness rating, it is perfect for planting in well-drained soil. Green throughout the year, the best part of the Photina is that when it gets to spring, the flowers start to turn into a beautiful red and white colour, providing a very romantic view. Minimal pruning is required but an occasional trim in Spring and Summer is advised. The Archway itself is about 150 cm (4.9 ft) sideways and upright 250 cm (8.2 ft).
Latin Name: Photinia x Fraseri Red Robin also known as Photinia Serrulata Red Robin
English Name: Christmas Berry Red Robin, Photinia Red Robin, Red Robin, Fraser Photinia
Species: Rosaceae
Genus: Photinia
Foliage Type: Evergreen.
Foliage: Bright Red to Green.
Flower: White Flowers and Red Berries.
Flowering Period: Spring.
Suggested Location: Outdoor.
Suggested Soil Type: Well-Drained. Chalk. Clay. Loam. Sand.
Suggested Exposure to Sunlight: Full Sunlight or Partial Shade.
Suggested Exposure to Weather: Sheltered or Exposed.
Hardiness Rating: High (H5)
Lowest Temperature Tolerance: -15 °C to -10 °C (5 °F to 14 °F)
Suggested Uses: Archway
Archway Sideways: 150 cm (4.9 ft) Upright: 250cm (8.2 ft)
Maintenance: No pruning required, but can be trimmed and shaped (if desired) each year in the late-spring.
Growth Habit: Climbing.
Growth Speed: Slow (20 cm to 40 cm per year).
Starting Height: 60 cm to 300 cm (2.0 ft to 10.0 ft)
Final Height: 400 cm (13 ft)
Starting Sideways Spread: 30 cm to 150 cm (1.0 ft to 5.0 ft)
Final Sideways Spread: 400 cm (13 ft)
Pot Included: 3 Litre Plastic Pot to 110 Litre Plastic Pot
Height including Pot: 75 cm to 355 cm (2.5 ft to 11.6 ft)
Delivery Cost: This is calculated based on the total size, weight and quantity of your order, as well as the location of your delivery address. You will see the final price at the Online Checkout Page (before making payment) – our website will automatically calculate the lowest possible delivery price and apply discounts to orders of certain products – giving you the best value delivery every time!
Please note that high-volume orders will decrease your delivery costs significantly by spreading the price across multiple items. Visit our Delivery Policy page for more information.