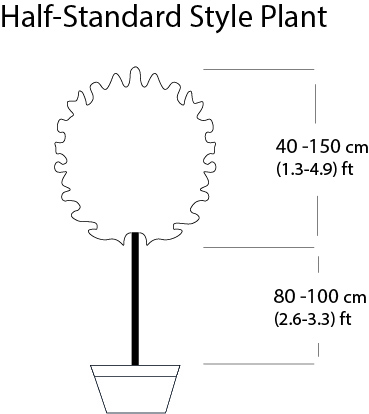 Product Dimentions
10 litres pot: trunk 80 – 120 cm (2.6-3.9 ft), canopy app. 20 – 40 cm (0.7-1.3 ft)
15 litres pot: trunk 80 – 120 cm (2.6-3.9 ft), canopy app. 20 – 40 cm (0.7-1.3 ft)
25 litres pot: trunk 80 – 120 cm (2.6-3.9 ft), canopy app. 30 – 50 cm (1-1.6 ft)
35 litres pot: trunk 80 – 120 cm (2.6-3.9 ft), canopy app.  40 – 60 cm (1.3-2 ft)
50 litres pot: trunk 80 – 120 cm (2.6-3.9 ft), canopy app. 50 – 80 cm (1.6-2.6 ft)
70-90 litres pot: trunk 80 – 120 cm (2.6-3.9 ft), canopy app. 60 – 80 cm (2-2.6 ft)
110-130 litres pot: trunk 80 – 120 cm (2.6-3.9 ft), canopy app. 80 – 120 cm (2.6-3.9 ft)
150-170 litres pot: trunk 80 – 120 cm (2.6-3.9 ft), canopy app. 100 – 140 cm (3.3-4.6 ft)
180-220 litres pot: trunk 80 – 120 cm (2.6-3.9 ft), canopy app. 120 – 180 cm (3.9-5.9 ft)
230-260 litres pot: trunk 80 – 120 cm (2.6-3.9 ft), canopy app. 120 – 180 cm (3.9-5.9 ft)
Olea Europaea olive fruit tree is increasingly being grown in containers as a Specimen Plant in UK gardens. The attractive evergreen foliage accounts for its popularity as the olive tree retains its pointed leathery grey-green leaves all year round.
Tiny scented white flowers appear in late spring often followed later in the year by small, ornamental fruit. For the olive tree fruit to ripen fully, it needs a long, hot summer followed by a cooler winter, though the exact temperatures depend on the specific cultivar. Despite this, some gardeners in milder parts of the UK have managed to grow edible olives from their own olive tree. This plant needs plenty of natural sunlight and it has a hardiness rating of H4, making it very durable in the UK's climate. Just make sure to shelter the plants during extreme cold snaps.Try to give this plant a once year trim and follow the guidelines of pruning group 1 for further ideas. The plant is generally disease free but has a potential problem with pests. The plant can growth to a final width between 40 cm – 1.5 m (1.3 ft – 4.9 ft) and a final height of 80 cm – 1 m (2.6 ft – 3.3 ft).
Latin Name: Olea Europaea
English Name: Common Olive
Synonyms: Citrus Kinokuni, Citrus Madurensis
Species: Oleaceae
Genus: Olea
Foliage Type: Evergreen.
Foliage: Green-Grey-White
Fragrance: Flower
Flower: White
Flowering Period: Summer
Suggested Location: Outdoor.
Suggested Soil Type: Moist but well-drained. Loam, Chalk, Sand, Clay
Suggested Exposure to Sunlight: Full Sunlight
Suggested Exposure to Weather: Sheltered
Hardiness Rating: Medium (H4)
Lowest Temperature Tolerance: -5 °C to -10 °C (23 °F to 33 °F)
Maintenance: Under glass prune to restrict size in spring
Growth Habit: Bushy
Cultivation: Grow in deep, fertile, sharply-drained soil in full sun. Under glass, grow in John Innes No 3 with added sharp sand, in full light
Propagation: Propagate by seed in spring at a temperature of 13 – 15°C (55 – 59°F). Can also be propagated by semi-ripe cuttings in summer
Suggested planting locations and garden types: City & Courtyard Gardens Coastal Gravel Garden Mediterranean Climate Plants Patio & Container Plants Sub-tropical
Pests: scale insect may be a problem
Diseases: Usually trouble free
Final Height: 80 cm – 1 m (2.6 ft – 3.3 ft)
Final Spread: 40 cm – 1.5 m (1.3 ft – 4.9 ft)
Delivery Cost: This is calculated based on the total size, weight and quantity of your order, as well as the location of your delivery address. You will see the final price at the Online Checkout Page (before making payment) – our website will automatically calculate the lowest possible delivery price and apply discounts to orders of certain products – giving you the best value delivery every time!
Please note that high-volume orders will decrease your delivery costs significantly by spreading the price across multiple items. Visit our Delivery Policy page for more information.