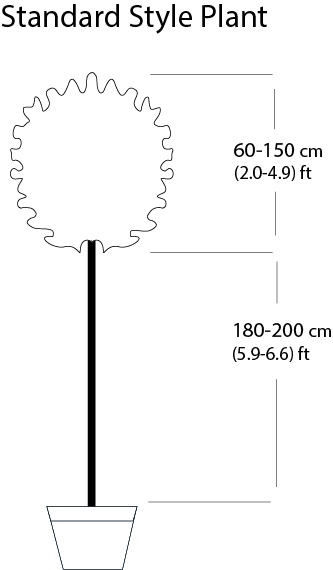 The name Magnolia first appeared in 1703 in the Genera of Charles Plumier, for a flowering tree that he found on the island of Martinique, although the plant itself is an ancient genus, encompassing about 210 different species. This particular plant, the Galaxy, is in standard format and is very hardy standing at H6, perfect for the British climate. It only needs sheltering in extreme conditions. Follow the maintenance guide on how to prune Magnolia. It is prone to diseases and pests so take that into consideration. Eventual spread is about 60 cm – 1.5 m (2.0 ft – 4.9 ft) and the eventual height is about 1.8 m – 2 m (5.9 ft – 6.6 ft)
Latin Name: Magnolia 'Galaxy'
Species: Magnoliaceae
Genus: Magnolia
Foliage Type: Deciduous
Foliage: Green
Flower: Red-Purple
Flowering Period: Spring
Suggested Location: Outdoor.
Suggested Soil Type: Well-Drained, moist but well drained. Clay, Loam, Sand
Suggested Exposure to Sunlight: Full Sunlight or Partial Shade.
Suggested Exposure to Weather: Sheltered
Hardiness Rating: High (H6)
Lowest Temperature Tolerance: -25°C to -15 °C (-13 °F to 5°F)
Growth Habit: Columnar/Upright
Eventual Spread: 60 cm – 1.5 m (2.0 ft – 4.9 ft)
Final Height: 1.8 m – 2 m (5.9 ft – 6.6 ft)
Cultivation: Grow in moist but well-drained neutral to acid soil in full sun or part shade with shelter from cold winds. Late frosts may damage flower buds. Further magnolia cultivation advice
Propagation: Propagate by softwood cuttings in early summer or semi-hardwood cuttings in late summer
Suggested planting locations and garden types: Cut Flowers Low Maintenance Architectural City & Courtyard Gardens Cottage & Informal Garden Patio & Container Plants
Pruning: Magnolia pruning should be carried out in summer when in full leaf
Pests: May be damaged by horse chestnut scale, snails and capsid bug
Diseases: May be affected by coral spot, grey mould, honey fungus, a virus, fungal leaf spot or iron deficiency and lime-induced chlorosis
Delivery Cost: This is calculated based on the total size, weight and quantity of your order, as well as the location of your delivery address. You will see the final price at the Online Checkout Page (before making payment) – our website will automatically calculate the lowest possible delivery price and apply discounts to orders of certain products – giving you the best value delivery every time!
Please note that high-volume orders will decrease your delivery costs significantly by spreading the price across multiple items. Visit our Delivery Policy page for more information