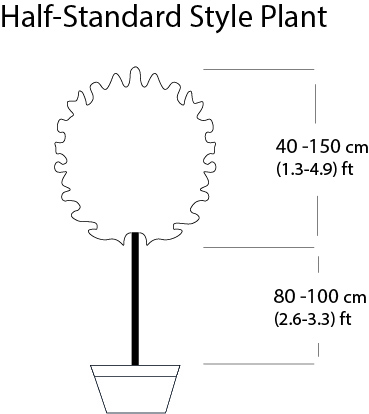 Product Description
Laurus Nobilis, also known as the Bay Laurel, Bay Tree, True Laurel or Grecian laurel tree is a popular fragrant evergreen plant suitable for containers or planted in the ground as a small tree. The bay tree has a noble history. It was sacred to the god Apollo and laurel wreaths were worn by poets and emperors in ancient Greece and Rome. Bay leaves can be used fresh or dried in cooking to give a fragrant flavour to soups and stews. Small greenish-yellow male or female flowers are produced in spring, followed by black berries on female plants. The plant is rather hardy at H4 and only needs to be sheltered during the most extreme cold snap. It is affected by potential pests and diseases so keep an eye on this. Eventual spread is between 5 m – 12 m (16.4 ft – 39.4 ft) and eventual height is between 5 m – 15 m (16.4 ft – 49.0 ft).
Latin Name: Laurus Nobilis
English Name: Bay Tree, Bay Laurel
Species: Lauraceae
Genus: Laurus
Foliage Type: Evergreen
Foliage: Green
Fragrance: Leaf
Flower: Green-Yellow
Flowering Period: Spring
Suggested Location: Outdoor.
Suggested Soil Type: Well-Drained, Clay, Loam, Sand
Suggested Exposure to Sunlight: Full Sunlight or Partial Shade.
Suggested Exposure to Weather: Sheltered
Hardiness Rating: Medium (H4)
Lowest Temperature Tolerance: -10 °C to -5 °C (14 °F to 23°F)
Growth Habit: Columnar/Upright
Eventual Spread: 5 m – 12 m (16.4 ft – 39.4 ft)
Final Height: 5 m – 15 m (16.4 ft – 49.0 ft)
Cultivation: Grows well in a container. Prefers a well-drained soil in sun or partial shade
Propagation: Propagate by seed or semi-hardwood cuttings
Suggested planting locations and garden types: Hedging & Screens Low Maintenance Coastal
Pruning: Pruning group 1
Pests: Can get bay sucker, horse chestnut scale, soft scale and tortrix moth
Diseases: Powdery mildews and a leaf spot may be a problem
Delivery Cost: This is calculated based on the total size, weight and quantity of your order, as well as the location of your delivery address. You will see the final price at the Online Checkout Page (before making payment) – our website will automatically calculate the lowest possible delivery price and apply discounts to orders of certain products – giving you the best value delivery every time!
Please note that high-volume orders will decrease your delivery costs significantly by spreading the price across multiple items. Visit our Delivery Policy page for more information