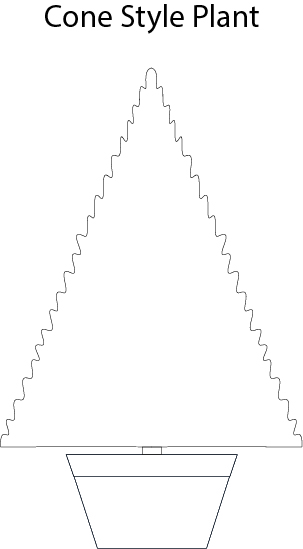 Product Description
Common English Holly is a medium-sized evergreen tree, which grows slowly when young, but speeds up a little as it matures. Its dark, glossy green, wave-shaped leaves are edged with spines and are a popular decoration at Christmas when combined with its seasonal red berries. Resilient against even the most extreme British weather, they bring rich colours to your garden throughout the year.
Ilex Aquifolium (English Holly) is an ideal topiary plant because of its slow growth and low maintenance requirements. Ilex Aquifolium is a hardy shrub that can grow almost anywhere except in extremely wet conditions. Common English holly, Ilex aquifolium, is the most popular holly species grown in British gardens and is widely used for decorations at Christmas. Holly is dioecious, which means there are separate male and female plants. The white flowers which appear in May are pollinated by insects and berries appear on female plants by late November. Holly berries are a good winter food source for birds. However, holly berries are mildly toxic to humans, causing vomiting and diarrhoea if eaten.
Latin Name: Ilex Aquifolium
English Name: Common English Holly, Common Holly, English Holly, Holm, Hulm, Hulst, Hulver
Species: Aquifoliaceae
Genus: Ilex
Foliage Type: Evergreen.
Foliage: Green.
Flower: White Flowers and Red Berries.
Flowering Period: Flowers in Spring/Summer. Berries in Autumn/Winter.
Suggested Location: Outdoor.
Suggested Soil Type: Well-Drained. Chalk. Clay. Loam. Sand.
Suggested Exposure to Sunlight: Full Sunlight or Partial Shade.
Suggested Exposure to Weather: Exposed or Sheltered.
Hardiness Rating: High (H6)
Lowest Temperature Tolerance: -20 °C to -15 °C (-4 °F to 5 °F)
Suggested Uses: Hedging. Privacy Screening. Security Screening. Rock Gardens. Courtyard styles.
Maintenance: Trimming and shaping each year in the early-spring. Protect against Aphids, Scale Insects and Holly Leaf Blight.
Growth Habit: Bushy/Shrub
Growth Speed: Medium (30cm to 60cm per year).
Delivery Cost: This is calculated based on the total size, weight and quantity of your order, as well as the location of your delivery address. You will see the final price at the Online Checkout Page (before making payment). Our website will automatically calculate the lowest possible delivery price and apply discounts to orders of certain products – giving you the best value delivery every time!
Please note that high-volume orders will decrease your delivery costs significantly by spreading the price across multiple items. Visit our Delivery Policy page for more information.