Hozelock's World-class Pro Metal Hose End Connectors – The ultimate in quick connection.
Thanks to the additional benefit of AquaStop – The internal valve stops the water flow when the watering accessory is disconnected, enabling you to easily switch between accessories without wasting water or getting wet.
The Zinc die cast sleeve – Ensures that the Hozelock connector is strong, durable and scratch-resistant.
All internal parts are made from the highest quality materials – DuPont Delrin® Acetal, ultra-tough engineering thermoplastic, that bridges the gap between plastic and metals and its unique component assembly points.
Triple locking system – The connection to the hose end accessory is guaranteed to stay secure up to 10 bar.
Strong connection – The hose is securely connected thanks to barbs that connect with the inside and outside of the hose.
Soft Touch Pads – Provide a comfortable grip for easy connection/disconnection even when wet.
Eliminates hose kinking, hose swelling and hose leaking – at the connection point with the fitting due to the ingenious flexible hose-tail on the nut.
Quick connect & durable, premium Hozelock AquaStop connector fitting for 12.5mm & 15mm hose, is best used at the gun end of a hosepipe.
Key Benefits Include:
The Zinc die cast sleeve makes the Pro Metal AquaStop strong, durable and scratch resistant
It has an internal valve that stops the water flow when an accessory is disconnected
Soft touch for comfort
Flexible tale prevents kinking
| | |
| --- | --- |
| Connector Function | Gun/Sprinkler Connection |
| Connection Type | Female |
| Hose Diameter | 12.5mm, 15mm |
| Material | Metal, Polypropylene |
| Guarantee Period | 3 Years |
NOT ALL CONNECTORS ARE MADE EQUAL

1. Water Stop Valve
Manufactured from ABS for impact and rigidity. Stops water after removing the watering device.
2. Connection Grip
Manufactured from Dupont Delrin® Acetal with a silicone additive for ease of use. Triple connect point for the strongest possible connection.
3. Outer Sleeve
Made from Zinc Alloy making it strong, durable and scratch resistant, with soft touch over-moulding for an enhanced grip.
Manufactured from Dupont Delrin® Acetal, one of the most crystalline engineering thermoplastics, to bridge the gap between metals and plastics.
5. Connection Grip
Polypropylene teeth stay resistant to repeated stress and provide a secure hose clamp.
6. Hose Tail (Plus and Pro only)
Manufactured from tough, but flexible Polypropylene for a secure hose connection that prevents kinking.
SIMPLY CLICK & CONNECT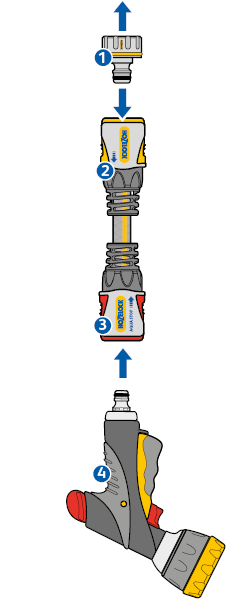 1. Connect to your Tap
Threaded Outdoor Tap Connector
Ideal for 1/2" or 3/4" BSP taps (21mm or 26.5mm)
3. Attach your AquaStop Connector – which stops the water flow when you disconnect your watering accessory
D49240 – AquaStop Connector Pro
Ideal for hose diameters 1/2" & 5/8" (12.5mm & 15mm) and 15mm & 19mm (5/8" & 3/4'')
4. Finally, connect your chosen watering accessory – Nozzle, Gun or Sprinkler
Multi Spray Pro
Premium gun with durable metal accents. Comes with seven spray patterns – jet, cone, fast fill, fan, mist, fine rose and aerated