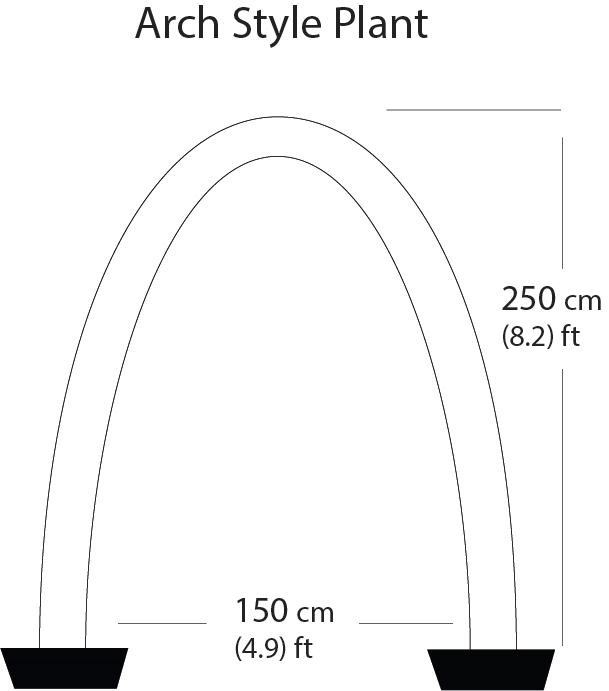 The Fagus Sylvatica, known also as the "European Beech", has a long and ancient history within the continent. The wood itself has been used for centuries for both fire and furniture in Europe, with even the English wood for "book" originating deriving from the Anglo-Saxon word "boc", a derivative of "beech". The plant itself is very hardy with a rating of H6 and is perfect for well drained soils. It can grow about 30cm to 60cm a year, approaching a final height of 15 m (45 ft). The plant is perfect for planting throughout the UK. The magic of the Fagus Sylvatica really comes in the Autumn when the plant starts to turn into a beautiful brown and orange colour, really giving your garden that beautiful Autumn feel. Now also available in Archway form, the starting size sideways is 150 cm (4.9 ft) and upwards about 250 cm (8.2 ft).
Latin Name: Fagus Sylvatica
English Name: Common Beech, European Beech
Species: Fagaceae
Genus: Fagus
Foliage Type: Deciduous
Foliage: Bright Green-Brown/Orange
Flower: Green
Flowering Period: Spring.
Suggested Location: Outdoor.
Suggested Soil Type: Well-Drained, moist but well drained. Chalk, Clay, Sand, Loam.
Exposure to Sunlight: Full Sunlight or Partial Shade.
Suggested Exposure to Weather: Sheltered or Exposed.
Hardiness Rating: High (H6)
Lowest Temperature Tolerance: -20 °C to -15 °C (-4°F to 5°F)
Suggested Uses: Archway
Archway Sideways: 150 cm (4.9 ft) Upright: 250 cm (8.2 ft)
Maintenance: Trim once a year
Growth Habit: Climbing.
Growth Speed: Fast (30 cm to 60 cm per year)
Final Height: 15 m (45 ft)
Delivery Cost: This is calculated based on the total size, weight and quantity of your order, as well as the location of your delivery address. You will see the final price at the Online Checkout Page (before making payment) – our website will automatically calculate the lowest possible delivery price and apply discounts to orders of certain products – giving you the best value delivery every time!
Please note that high-volume orders will decrease your delivery costs significantly by spreading the price across multiple items. Visit our Delivery Policy page for more information.